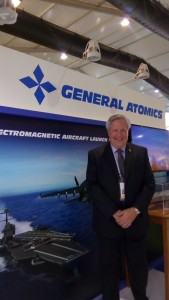 By Sangeeta Saxena
Quepem, Goa. 30 March,2016. The U.S. government has been saying that it would support selling General Atomics' electromagnetic launching system for aircraft carriers, and other key technologies, to India and now comes the time which seems nearest to fulfilling this commitment.
"India has sent a request to US government for prices and export availability of EMALS for IAC- II about two weeks back. It will be a Foreign Military Sale if it materialises. This is for IAC-2 which will launch by 2028 and we expect some kind of a contract in 2018," informed Gary Hopper, Vice President Strategic Development &Washington Operations of General Atomics, the US company which makes EMALS, exclusively to Aviation & Defence Universe at Defexpo .
Hopper said, "this will allow us to deliver the system as the carrier is being built. The benefits of EMALS will be increased sortie rate, less manning of aircraft launch and land on the ship and will last the lifetime of the ship. This system will allow the Indian Navy fighters to launch with more fuel and carry more payload."
IAC-II named INS Vishal is the second Vikrant-class aircraft carrier currently in its design phase, which will be built by Cochin Shipyard Limited for the Indian Navy and the second aircraft carrier built in India. It is intended to be the first super carrier to be built in India. The proposed design of the second carrier features significant changes from INS Vikrant (IAC-I), including an increase in displacement and proposals to incorporate nuclear propulsion.   EMALS CATOBAR system could be used to launch heavier aircraft like larger fighters, AEW (airborne early-warning) aircraft and Mid-Air Refueling Tankers.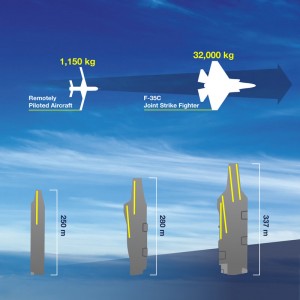 EMALS  or Electromagnetic Aircraft Launch System is a multi-megawatt electric power system which has generators, energy storage, power conversion, a 100,000HP  electric motor with a closed loop control system with built in performance monitoring. It is being developed by US defence major General Atomics and will replace the steam catapults being used by the US Aircraft Carriers. General Atomics was awarded this contract in 2003 to supply US Navy Aircraft Carriers with EMALS which will replace the currently used MK7Hydraulic System for aircraft deceleration during recovery operations. The first ship to have the EMALS will be the USS Ford which will be delivered to the US Navy in 2016. GA has also been contracted for developing EMALS for USS Kennedy.
For aircraft taking off and landing on the carriers currently,  India uses Short Take-Off But Arrested –Recovery(STOBAR) and Short Take –Off Vertical-Landing(STOVL) which are both Ski Jump  launch systems.
"We have been pursuing for three years in India. The Defence Trade and Technology Initiative(DTTI)between the two countries formed the Aircraft Carrier Working Group which is the  most successful working Group between US and India. Under it things promise to move fast," he added. Gary  also hopes that General Atomics will open an office in Delhi within the next one year.
"We are the largest privately held Defence company in US and were the nuclear arm of General Dynamics in the Nineteen fifties till the blue Family took over the company. Even today 83 out of  100 nuclear power plants in US have GA's radiation monitoring equipment. This equipment if bought into India will benefit its nuclear energy sector  tremendously'" said Gary. GA has provided custom designed, environmentally- and seismically-qualified radiation monitoring equipment to the nuclear power industry, for more than half a century. Paying a lot of emphasis on directed energy he told that GA makes capacitors for military applications worldwide which are used in LASER technology and directed energy weapons.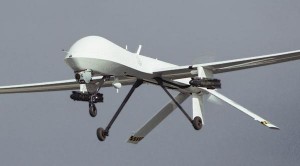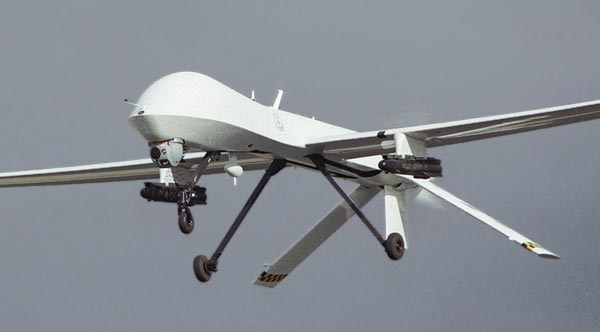 "We have been trying to promote the Predator XP our unarmed aircraft in India and have offered it to the Indian Navy. We for sure know that the Indian Government has asked for a pricing of the aircraft from the US government. So this will also be under the FMS route, if decided upon by the Indian government," he informed.