Q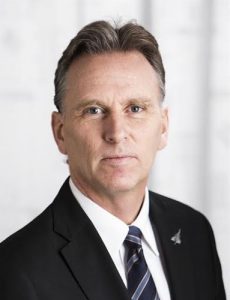 uepem, Goa.08 April,2016.
 The never say die attitude is one of the many tips one can get in marketing from the Swedish defence major Saab. In addition to its continuous offer to market Grippen as the fighter of choice for the Indian Air Force , it has offered to collaborate with India to develop a naval version of its fighter aircraft Gripen.
"We will give complete technology transfer, with capabilities to develop and produce,  and our offers will be in  line with the Indian Government's 'Make in India' initiative," said Ulf Nilsson, head of Saab aeronautics division, addressing the media at the Defexpo 2016.
And it is no open secret hid from anyone, that as of now India has ordered just 36 Rafale fighter jets, just not enough for 45 squadrons that IAF must maintain to  balance  both Pakistan and China fronts, if need be.
Nilsson informed that SAAB has offered to manufacture the company's fifth generation Gripen fighter aircraft in India and its lower combat radius issue of the fourth generation could be removed in the 5th generation version.
As announced by the Swedish and Indian Prime Ministers on
13February
during the Make in India week, there will be a collaboration between the two countries in defence and Aviation and the supply chain will have suppliers from India as well as the rest of the world, Ulf stated.
"We will be developing the programme for a long time, thirty to forty years , life cycle cost will be low and availability very high. We will have four times the aircraft available compared to our competitors," he claimed.
As per some media reports, Saab has also promised not to export fighter aircraft manufactured in India to countries that New Delhi has put on a negative list (read Pakistan and China).
Ever since its induction in 1997, the Gripen has found an export market in twelve countries across Europe, South America and Asia. It wants to provide Indian Air Force with an Indian-built combat aircraft of the future, with technology of Gripen E. "Sweden is looking for a market. India is looking for technology. The Gripen E can be the frontline multi-role fighter made in India. This will be a win-win situation for both the countries," he said.
Saab has a ready-made blueprint for India that meets every aspect of India's needs, a platform for building future aircraft based on what Indian engineers have already learned from various programmes and with this ready-to roll "India Make Plan", it carry on smoothly and aim to deliver at the earliest.