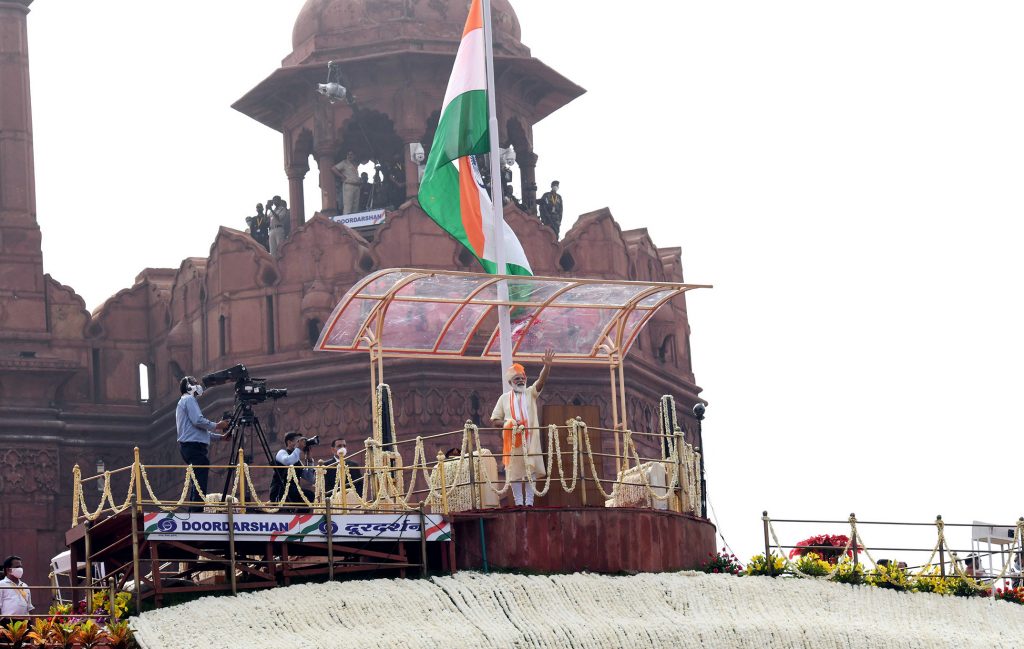 New Delhi. 16 August 2020. "From the LOC to the LAC, whoever has raised eyes on the sovereignty of the country, the country, the army of the country has responded in the same language. Respect for India's sovereignty is supreme for us. What our brave soldiers can do for this resolution, what the country can do, the world has seen this in Ladakh," stated Prime Minister Narendra Modi from the ramparts of Red Fort while addressing the nation on the 74th Independence Day.
"India has as much commitment to make its security apparatus & armies strong as it has for establishing peace & harmony. Mammoth steps have been taken in the field of defence production, to make self-reliant India. Recently, we have put a stop on the import of more than 100 military equipment. From missiles to light military helicopters, from assault rifles to transport aircraft – all will be made in India. Our Tejas is getting ready to equip itself as per the modern requirements, for putting up a show of its majesty, speed and strength. Our borders and coastal infrastructure play a pivotal role in national security. Today emphasis is being laid on connectivity in every direction, be it at Himalayan peaks, or the islands of Indian Ocean. New roads are being constructed everywhere, from Ladakh to Arunachal Pradesh, keeping in mind national security.
Dear citizens, we have such a vast coastline. Alongside, we have over 1300 islands. Keeping the importance of a few identified islands in mind, we are developing them very fast. You must have seen, last week, five days back, a submarine optical fiber cable project in Andaman and Nicobar Islands was dedicated to the nation. Andaman and Nicobar islands will now have the internet facility just like Delhi and Chennai. Soon we will move forth in connecting Lakshadweep islands in the similar manner.
We are aiming at providing high speed internet connectivity to Lakshadweep islands in the next 1000 days. Alongwith the security and development, the youth residing in the coastal area and near borders mind, we are working on developmental projects and taking steps, starting a big campaign.
About 173 districts in our border areas, our coastal areas share their boundaries with some or the other nation's border or coastline. In the coming days, NCC would be extended in those border districts for the youth there. We will train around one lakh new NCC cadets from bordering areas, and we will work towards the idea that amongst those, one-third of them are our daughters. The Army will train these border area cadets. The cadets for coastal areas would be trained by the navy and wherever there is an air base, the air force will train those cadets. The border and coastal areas would get trained manpower for disaster management, and the youth would also get skill training for making their career in the armed forces."