By Jai Kumar Verma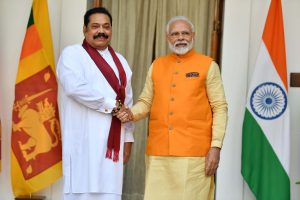 New Delhi. 16 February 2020. The Sri Lankan Prime Minister Mahinda Rajapaksa told to an Indian newspaper during an interview that other countries are "friends" of Sri Lanka while India is a "relation". The 74-year old Rajapaksa who is the senior most member of parliament is a fervent devotee of Lord Venkateswara. He also visited Kashi Vishwanath temple in Varanasi, Sarnath, Maha Bodhi temple in Bodh Gaya and Tirupati during his current visit.
Sri Lanka is India's closest maritime neighbour and is just 30 nautical miles away from the territorial boundary. India has deep historical and cultural ties with this island nation. Despite areas of co-operation between India and Sri Lanka there are some issues between the two nations and Sri Lanka's growing closeness to China one of them. And in this scenario , the statement by Rajapaksa seems to be a pleasant surprise.
It was his first visit to India after being appointed as Prime Minister by his younger brother President Gotabaya Rajapaksa in November 2019. He arrived in India on 7February on a four-day visit. During his sojourn in India he met President, Prime Minister, foreign minister and other dignitaries. President Gotabaya Rajapaksa also made his first official overseas visit to India after taking over as President of Sri Lanka.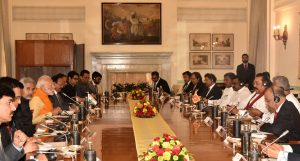 The visiting Prime Minister met Prime Minister Modi on 8 February and thanked him for India's "neighbourhood first" policy and giving precedence to Sri Lanka in the foreign policy. Both the prime ministers discussed several issues including security and economy. He thanked India for extending $ 400 million line of credit to strengthen the island's economy and $50 million for combating terrorism. He requested to extend more assistance as well as construct more houses. India has so far built 48,000 houses under Indian Housing Project in warn-torn areas for internally displaced persons. Besides these houses India is also constructing several thousand houses for Tamils of Indian origin.
Both the Prime Ministers also discussed the problems faced by Tamil community in Sri Lanka and Modi expressed his confidence that Sri Lankan government must be treating Tamils with full impartiality, righteousness and justice. They also discussed the prevailing condition in Indian Ocean Region and to improve defence and trade relations between both the countries. Rajapaksa after meeting Modi stated that "We had agreed that our cooperation is multifaceted, and priority is given to a number of areas including security, economy, culture and social sectors. Part of our discussions centered on cooperation with regard to the security of the two countries. India has always assisted Sri Lanka to enhance our capacity, capabilities in intelligence and counter-terrorism. We look forward to getting continued support in this regard,".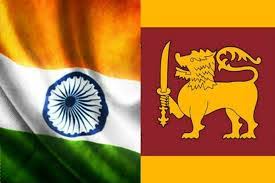 Prime Minister Modi's office also issued a detailed note after the meeting with the visiting dignitary. The note besides several points mentioned that "terrorism is a major danger in our region. We both countries have fought this problem firmly. There were painful and barbaric terrorist attacks on "Easter Day" in Sri Lanka in April last year. These attacks were not only a blow to Sri Lanka, but also to humanity. And so, in our conversation today, we discussed furthering our cooperation against terrorism. I am happy that Sri Lankan police officers have started participating in anti-terrorism courses in India's premier training institutes."
Rajapaksa also thanked Modi for visiting Sri Lanka after Easter Sunday terrorist attack on 21 April 2019. The Islamic terrorists attacked three churches and three luxury hotels in Colombo. There were also few explosions in Dematagoda and Dehiwala. In these terrorist attacks, two hundred fifty-nine persons including 45 foreigners were killed. More than 500 persons were injured. All the seven suicide bombers were Sri Lankan nationals and were associated with National Thowheeth Jama'ath an Islamic terrorist outfit. The terrorists targeted Churches so that hatred between Muslims and Christians enhance which may culminate in the riots between both the communities. They also targeted luxurious hotels in which several foreigners were killed so that tourism suffers in the country. Tourism is important for the economy of Sri Lanka.
Prime Minister Modi's concern about Tamils in Sri Lanka is significant as Rajapaksa concluded the 26-year-old civil war between Liberation Tigers of Tamil Eelam (LTTE) and Sri Lankan government in 2009 when he was the president of the island nation. Sri Lankan forces killed Velupillai Prabhakaran who was the chief of LTTE. There were several human right abuses by security forces against minority Tamils in Jaffna area.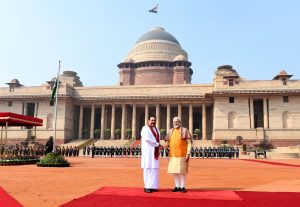 Rajapaksa also told that there will be more intelligence sharing with India and the technical assistance between both the countries would be enhanced. He also thanked India for providing prior information about the Easter Sunday terrorist attack and it is unfortunate that the previous government had not acted on this vital intelligence.
He also stated that the earlier project between Sri Lanka, India and Maldives pertaining to trilateral cooperation on terror and security would also be renewed. There can be the next meeting of the three nations in Maldives.
PM Narendra Modi also added that Sri Lankan police officers have started participating in anti-terrorism courses in India's premier training institutes and the nation is also committed to further strengthening the contacts and cooperation between the agencies of the two countries.
The island nation has to repay domestic and foreign debt of approximately $60 billion, hence the visiting prime minister requested India to give a moratorium on loan repayments for three years. After getting suspension of loan from India Sri Lankan government would request other countries also. This year Sri Lanka has to pay $5 billion as the repayment of the loan. In reply of a question, he also mentioned that Sri Lankan government will try to get back the control of Hambantota port from China, but it may be difficult as the control of the port is already handed over to the Chinese.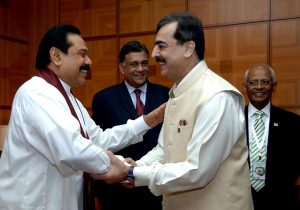 The Sri Lankan Prime Minister also clarified that Sri Lanka has cordial relations with all the nations including China and Pakistan. However, India should be careful as Pakistan Air Force Chief Air Marshal Mujahid Anwar Khan visited Sri Lanka before the visit of Rajapaksa to India. It appears that Pakistan wants to revitalise its relations with Sri Lanka after both Rajapaksa brothers became president and prime minister. Pakistan supplied lot of arms and ammunition to Sri Lankan forces when they were eliminating LTTE in 2009. Pakistan air chief met Rajapaksa and offered assistance for Sri Lankan Air Force. Both the countries have Chinese arms and ammunition hence it is easy to render assistance. President Gotabaya Rajapaksa also attended an officers training course in Pakistan as a young army officer in 1970. Sri Lanka also permitted refuelling facilities to Pakistan in 1971 and permitted landing of Pakistani civilian and military aircraft at Katunayake international airport.
India should supply arms and ammunition to Sri Lanka as for as feasible. As India has changed its policy and wants to enhance its export of defence equipment it will be a good opportunity. The possibility that Pakistan Air Force Chief visited Colombo on behest of China cannot be ruled out. Beijing considers Delhi as its potential opponent hence it tries to encircle India.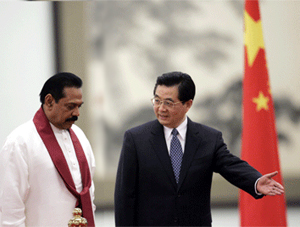 China which has already emerged as a big exporter of arms and ammunition is supplying different types of defence equipment to Sri Lanka since 2007 when US stopped supply because of human right violations. At present China is assisting Sri Lanka in modernising its defence forces. China exports several types of missiles and bombs including anti-tank guided missiles, deep penetration bombs, tanks, and naval equipment. Sri Lankan defence personnel are also getting training in China. Besides defence cooperation there is also cooperation on several other fields. Chinese firms have taken contracts of many infrastructure projects and large number of Chinese tourists visit Sri Lanka. Hence India has to plan a long-term strategy to win over Sri Lanka which will be a difficult task.
(Jai Kumar Verma is a Delhi-based strategic analyst and a retired senior intelligence officer. He is also member of United Services Institute of India and Institute for Defence Studies and Analyses. The views in the article are solely the author's. He can be contacted at editor.adu@gmail.com)