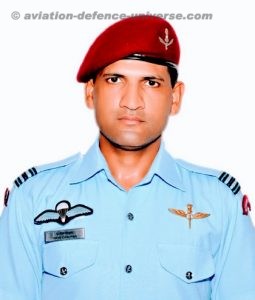 New Delhi. 26 January 2018. On 18 Nov 17, on receipt of specific intelligence, an operation was launched jointly by Garud team and 13 RR in village Chanderger, District Bandipora in Jammu & Kashmir. Squadron Leader Rajiv Chauhan Adm/Garud, while leading the Garud team exhibiting exceptional situational awareness and courage, covertly deployed the Garud team in cordon at the target house Wherein suspected terrorists were hiding, and cut off all possible escape routes.
While the detachment laid in wait, six terrorists hiding in the house, rushed out, shooting and lobbing grenades at the Garuds. Sensing the intentions of fleeing terrorists, Squadron Leader Chauhan demonstrated indomitable courage, control and admirable leadership in exercising effective and accurate fire by his team on the fleeing terrorists, thereby resulting in shooting down of one category 'A+' and five category 'A' terrorists of LeT. The officer was directly responsible for killing of one category 'A' terrorist named Abu Zurgam (LeT front man in North Kashmir). Disregarding personal safety, he ensured speedy evacuation of the injured men under his command and exhibited admirable leadership in the intensely fought close quarter battle.
For his act of courage, professionalism and leadership in a hostile situation, Squadron Leader Rajiv Chauhan has been awarded Vayu Sena Medal (Gallantry).