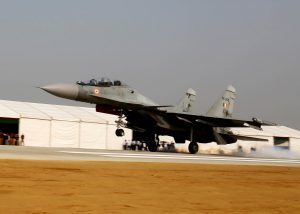 New Delhi. 27 May 2017. Army Special Forces and IAF Garuds slithered into the area, join army's ground columns to hunt in the wreckage of IAF Su-30 MKI jet that went missing with two pilots onboard.
The wreckage has been found in the thick forest around 60 Kms from Tezpur, Assam where it lost radar contact with the base. The wreckage was located yesterday and ground parties had to be airlifted to the crash site as the area is totally inaccessible.
More as news trickles in.