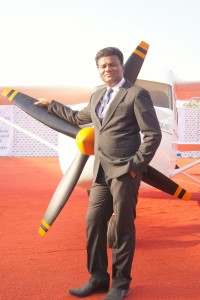 By Ankita Srivastava
Hyderabad.01 April, 2016.  A six seater aircraft was the cynosure of all eyes at India Aviation 2016. It was a dream come true for a man to convert the flight of an eagle into a reality. Capt. Amol a Deputy Chief Pilot by profession, had been working on building an indigenous aircraft for past 17 years.
Thrust Aircraft Private Limited is a unique venture promoted by a Self-Motivated Entrepreneur Capt. Yadav who  at the age of 19 flew to US in 1995 for the Commercial Pilot training. After  rigorous training and brainstorming sessions required for becoming a successful pilot he was motivated to manufacture customized aircraft.
In 1998 Amol's ambition took wings and single handedly he made 2 seater aircraft. But the aircraft stayed grounded due to technical reasons. This propelled Capt. Amol further. In 1999 he took care of all the technical details. By 2003 he completed his 2 seater aircraft, but couldn't launch due to regulations. However, his passion for Aircraft did not allow him to stop. Finally in 2010 the conception of a new Aircraft TAC 300 took roots.
By 2016 a sleek 6 Seater came in to existence due to Capt. Amol's firm determination and perseverance. Working with Jet airways gave him the expertise regarding selection of high quality raw material, Aviation quality norms, Regulations and Avionics. He is waiting for the clearance of all registration and airworthiness norms.

Meanwhile the dream has become bigger and he is planning to establish his Indian Aircraft Manufacturing Company. Thrust Aircraft Private Limited is the FIRST Company in India to propose manufacturing of Aircraft, Aeroplanes as a main goal of a company. Thrust Aircraft Private Limited has built a first ever MADE IN INDIA Aircraft which is an experimental type. Company has ensured that all the said norms in the DGCA policy and AAI directed sections / schedules have been followed while manufacturing this Aircraft.
The Aircraft TAC-003 is targeted towards huge connectivity potential with existing 400 airstrips. The Aircraft TAC-003 is capable of connecting all the districts of India. The unique selling proposition of the aircraft is that the fuel required for TAC-003 is 93 Octane which is widely available in India. TAC-003 comes with BRS Aircraft Parachute which ensure safe landing in case of emergency.
TAC-003 can be a boost to services like passenger transportation, cargo services, emergency and medical evacuations, pilot training institutes, postal services and search & rescue operations.First Aircraft manufactured in India for India, this is one Make in India product which promises to be nation's pride and a salute to it's innovative spirit and scientific temper.