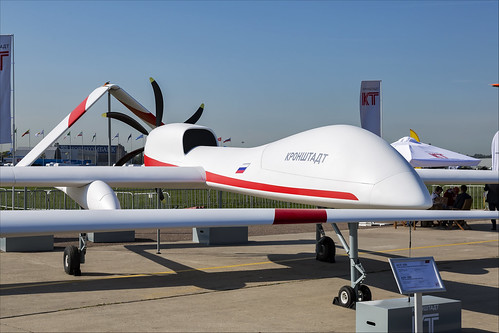 Moscow. 29 August 2021. New attack drones Inokhodets-RU , also known as Sirius will enter the troops from 2023, Deputy Defence Minister of the Russian Federation Alexei Krivoruchko said at the ARMY 2021 Forum. "We expect the delivery of these vehicles starting in 2023," the Deputy Minister said.
In the fall, the Russian Armed Forces will receive a heavy strike complex with unmanned aerial vehicles (UAVs) t called Altius. In addition, he added that the troops are already using new attack drones Forpost and Inokhodets (another name for Orion).

Also, at the ARMY 2021 Forum, contracts were signed for an additional serial supply of Forpost-R strike drones, for the first serial supply of Inokhodets-RU drones (the developer's name is Sirius), for unified aviation weapons for use with all types of existing and developed shock UAVs.

The contract for the supply of Inokhodets-RU was signed between the Ministry of Defence of the Russian Federation and Kronshtadt company within the framework of IMTF ARMY 2021.

Inokhodets-RU is a further development of Inokhodets strike drones project , another name is Orion. Inokhodets-RU has two engines, a large take-off weight and can carry more payload.
According to the Kronshtadt Group press release, the Sirius UAV is the next stage in the development of the Orion UAV project with a takeoff weight increased to 2 tons. With the help of the satellite communication system currently being developed, the Sirius application range will be limited only by the fuel supply on board and will be at least 1000 km from base. The aircraft has multiple suspension points for airborne weapons (AAS) and is capable of carrying up to 300 kg of dropped cargo. "
"Such drones may be of interest to oil and gas processing and high-tech industries and operators of nuclear power plants, thermal power plants, GRES, hydroelectric power plants and power transmission lines. They can be used for inspection of highways, railways, viaducts, bridges, overpasses, inspection of ships and airliners. In addition, such UAVs can be used in the interests of Roscosmos for pre-launch inspection of space rockets, launch pads and at shipbuilding and aircraft manufacturing enterprises. We assume that in two or three years we will be able to enter large-scale serial deliveries of mini-UAVs, " said Sergey Bogatikov, General Director of Kronstadt JSC, in the statement.