By Suresh Somu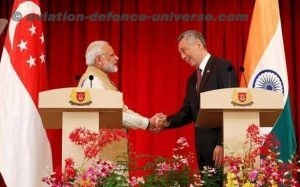 Singapore. 05 June 2018. Singapore and India are going positive ways with further additions to the landmark Comprehensive Economic Cooperation Agreement (CECA).
Significantly, it is India's first-ever CECA and from Singapore's viewpoint, the first comprehensive economic pact between Singapore and a prominent South Asian country.
Under the pragmatic leadership of Narendra Modi, the Agreement is a strategic compact between the two countries that will further enhance bilateral ties by catalysing the already growing flows of trade, investment, ideas and people.
Back in 2005, the-then Indian Prime Minister Manmohan Singh and Singapore Prime Minister Lee Hsien Loong signed the CECA and it successfully concluded after 13 formal rounds of negotiation, and encompasses trade in goods, trade in services, investment protections and other features.
The CECA covers Mutual Recognition Agreements that will eliminate duplicative testing and certification of products in specific sectors, as well as cooperation chapters that will encourage and facilitate bilateral cooperation in several sectors. The CECA has also encompassed a review to the existing Avoidance of Double Taxation Agreement between India and Singapore.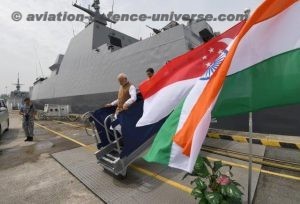 TARIFF CUTS
The CECA provided tariff cuts for most of Singapore's exports to India. And the bilateral trade has more than doubled to $25 billion. As a result, Singapore is now the second-largest investor in India with cumulative investments worth $36.3 billion.
Historically, India and Singapore has had excellent bilateral ties and it has only strengthened over the years. Both leaders are keen to explore further areas that would be of mutually great interest to both nations. The commitment undertaken by both nations has spurred economic and regional growth.
Arising from these successes, the countries are in high mood in taking it further. Singapore and India will update a key bilateral economic pact and will consider expanding their air services agreement to cater to the growing demand for air connectivity.
Last year, over four million passengers travelled between the two countires. And within the first quarter of this year, traffic growth continued rising another 14 per cent.
Modi, on a three-day visit hosted by Prime Minister Lee, further agreed to deepen economic ties and build a long-standing defence cooperation too. This includes taking advantage of new trends of digitalisation and financial technology.
BONDING OF THE NAVIES
The two countries also signed further deals towards the implementation of an agreement between their navies in the areas of logistics and services support for naval ships', submarines and naval aircraft.
India's support for the centrality of Asean in tackling regional security issues and a rules-based order for peaceful settlement of disputes were part of Modi's keynote address at the Shangri-La Dialogue before officials from countries of Asia-Pacific region.
"India-Singapore relations fulfil the criterion of strategic partnership in the true sense. There is no uneasiness in our relationships, rather it has only warmth, harmony and faith," Modi said in a joint press statement after the meeting.
Both leaders also reiterated that "our economic ties are substantial and that we want to do more together".
Modi also added that there would be a third review of the CECA as a "means to explore even greater opportunities between India and Singapore". He remarked that Singapore has expertise in areas like smart cities, skills development and fintech.
It was also noted the importance of fintech as the new driver of the bilateral economic partnership. In his remarks, Lee said: "India is a significant market for Singapore fintech companies, while Singapore, which is a global fintech hub, can be a gateway for India to enter the South-east Asian market."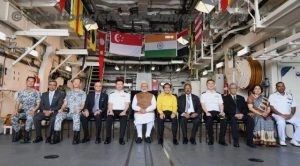 AIR SERVICES AGREEMENT
Both leaders have also agreed to a possible expansion of their air services agreement given the strong traffic growth. This will also boost the business and tourism sectors.
Lee also added that the 25th anniversary of annual Singapore-India maritime bilateral exercise will be celebrated this year. And both leaders noted that the ties had significantly deepened in the area of cyber security, narcotics control and defence.
There was also a mutual recognition agreement on nursing as well to facilitate better understanding of their standards in regulating the training and practice of nursing.
Singapore Minister for Trade Relations S. Iswaran said: "The upgraded agreement will enable more Singapore companies to qualify for lower tariffs. This improves local exporters' access to the Indian market. I encourage our companies to make full use of the upgraded agreement and explore more opportunities for collaboration in India."
US Defense Secretary James Mattis perhaps paid Modi a best compliment when he described India as the "fulcrum'' of security in the Indo-Pacific region as he travelled this week for the Shangri-La Dialogue, an annual security conference in Singapore, attended for the first time by an Indian leader.
But if Mattis was hoping that Prime Minister Narendra Modi would use the platform to join the US, Japan and Australia – a grouping known as Quadrilateral Security Dialogue, also known as the Quad – in a more muscular challenge to China's regional expansion, he was disappointed. Instead, India's strongest leader in decades navigated carefully between the two regional military powers.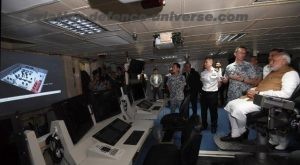 KIND TO CHINA
Modi studiously avoided any mention of the Quad, in his speech, and he hammered the kind of protectionism currently practiced by the US, both of which were sure to satisfy Chinese delegates.
"Asia and the world will have a better future when India and China work together in trust and confidence, sensitive to each other's interests," he said.
Modi also made it to a prominent point to visit Indian tourist attractions such as the Sri Mariamman Temple, which is oldest Hindu temple in Singapore.
He also unveiled special plaque, marking the immersion site of "Father of the Nation" Mahatma Gandhi's ashes at Clifford Pier where Singapore's former Prime Minister and Emeritus Senior Minister (ESM) Goh Chok Tong was also present at the event.
Perhaps the most beautiful way to sign off his Singapore visit was to have an exotic orchid named after him at the National Orchid Garden of Singapore.
Named Dendrobrium Narendra Modi, the strong and robust tropical orchid which produces upright inflorences up to 38 cm long with 14-20 well-arranged flowers, was nurtured in the only tropical garden to be listed as a UNESCO World Heritage Site.
For Modi, there were big thumbs-up after concluding his significant and successful three-nation visit to Asean. External Affairs ministry spokesperson Raveesh Kumar noted that the Prime Minister clearly added momentum to India's Act East Policy.