SAUDIA marks its first participation in a global aviation event since the onset of the COVID-19 pandemic and its first participation as a Group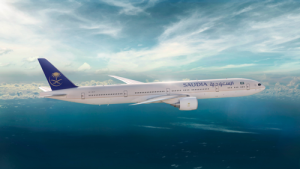 Dubai, UAE .12 November 2021. SAUDIA Group is set to participate in the Dubai Airshow, a biennial event held in Dubai under the patronage of H.H. Sheikh Mohammed bin Rashid Al Maktoum, Vice President and Prime Minister of the UAE and Ruler of Dubai. Regarded as one of the largest airshows in the world, the event will take place from 14 – 18 November and provides a platform for SAUDIA Group to showcase its industry-leading 360-degree aviation services and solutions in the Middle East and North Africa.
This year marks SAUDIA's first participation in a global aviation event since the onset of the COVID-19 pandemic, as well as its first participation in the Dubai Airshow as a Group.
Visitors to the event will have the opportunity to learn more about SAUDIA Group's regional world-class services and solutions at its bespoke 250m2 pavilion, which will host most of its subsidiaries including SAUDIA, flyadeal, Saudia Private Aviation (SPA), SAUDIA Cargo, Saudi Airlines Catering, Saudia Aerospace Engineering Industries (SAEI), Prince Sultan Aviation Academy (PSAA), Saudi Logistics Services (SAL), and Saudi Ground Services (SGS).
Important announcements are expected to take place during the show regarding the Group's future plans and its strategic role in enabling Saudi Arabia's transformation as the 'Wings of Vision 2030'. In addition, SAUDIA will be displaying one of its state-of-the-art flagship Boeing 787-10 aircraft on static display at the show.
The Group will also participate in the exchange of knowledge with industry peers across the globe at one of the world's leading events for the aerospace sector. SAUDIA Group has embarked on a series of collaborations with renowned international aerospace companies to assist in the transfer of technology and expertise to the Kingdom in areas such as Maintenance, Repair, and Overhaul (MRO), and more partnerships and connections are likely to be forged during the 5-day event.
Dubai Airshow 2021 will be at held at Al Maktoum International Airport in Dubai World Central. It will be the only live and in-person aerospace event happening this year and is set to attract more than 1,200 exhibitors from 148 countries and media representatives from every corner of the globe.
Through its participation, SAUDIA will seek to build on the remarkable momentum it has achieved despite the effects of the pandemic on the global aviation industry. The Kingdom's national flag carrier was recently crowned the 'World's Most Improved Airline of 2021' by Skytrax for the second time in 4 years, Its contributions have also been recognized through prestigious global awards, including its Five-Star Global Airline ranking and Diamond Status for in-flight health and safety by APEX.