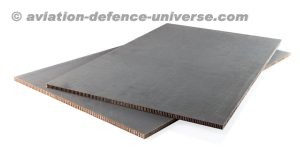 Copenhagen, Denmark, 2 March 2022 – Satair, an Airbus Services company and world leader in the commercial aerospace aftermarket, has launched its first Airbus semi-finished floor panel (ASFP) solution with improved quality and cost-reducing benefits. Developed in collaboration with Airbus and Schütz GmbH & Co. KGaA, the ASFP repair solution sets new standards for PAX & Cargo floor panels.
The Airbus semi-finished floor panels can be cut on-site leading to a reduction of downtime during repairs and fit application across all passenger, aisle and galley areas. In addition to being competitively priced against the standard market panels, the Airbus semi-finished floor panels are more robust without the compromise of additional weight and can be installed across the majority of Airbus aircraft platforms including A320, A330, A340, A350, and A380. Being an Airbus-qualified product, the solution can be installed in line with the Airbus Structural Repair Manual (SRM) and Aircraft Maintenance Manual (AMM).
Bart Reijnen, CEO of Satair, says: "The launch of the Airbus semi-finished floor panel solution represents Satair's dedication to driving innovation by developing a tailored spares product for the aviation aftermarket. We are truly excited that we can develop and distribute a product of this quality to our customers and support their needs through high stock flexibility, product durability, and by easing operational administration and handling."
Utilising the expert production and development capabilities of Schütz, a state-of-the-art composite supplier for Airbus, the ASFP is developed to flexibly meet aftermarket demands. "This project is an outstanding example of creating customer benefits through a combination of technical, production, and market expertise. We are very pleased with bringing the semi-finished floor panel solution to market via Satair to the benefit of Airbus operators worldwide. This encourages us to continue our composites strategy towards an integrated materials and solution provider for the aerospace market", says Roland Strassburger, CEO of SCHÜTZ Group.
In its first entry into service, the ASFP product line is available for PAX robust and will be available for the seat, aisle and galley areas with the first SRM release for the single-aisle family in February 2022, A350 and A380 in March, and long-range platforms in April. The container and cargo applications are being developed with an expected release by the end of 2022.