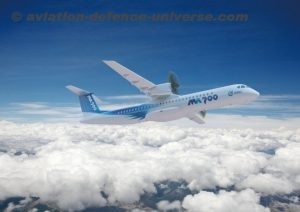 Paris. 17 June 2019. Saft will provide two ULM batteries per aircraft for AVIC MA700 advanced turboprop regional aircraft. The new contract makes the company a key supplier of onboard batteries for one of the largest and fastest-growing aviation industries in the world.
Founded in 1951, AVIC is ranked among the foremost aviation corporations in the world – and among its subsidiaries is AVIC XAC Commercial Aircraft Co., Ltd (AVIC XAC), which manufactures the MA700: an 80-seat level turboprop plane designed for short and medium-route travel.
Designed for high performance at elevated temperature and altitude, the plane is considered one of the most important commercial aircraft projects in the world and is expected to embark on its maiden flight in 2020. Saft's products will form an integral part of this project, building on its existing work as a provider of batteries for AVIC MA60 and MA600 programs as well as COMAC's ARJ21 and C919 jetliners, and cement its status as a leading supplier to the Asian aerospace market.
The ULM batteries provide safe and reliable power to start the Auxiliary Power Unit (APU) as well as emergency backup for critical systems. The ULM battery technology was selected as it offers the ideal combination of high performance, low weight and ultra-low maintenance requirements that enable significant reductions in the total cost of ownership (TCO) for the battery. Saft's proven record of delivering ULM batteries to meet manufacturing and design schedules was thought to be a decisive factor in AVIC's decision to award the contract ahead of the MA700's maiden flight.
"Saft's reliable and low maintenance ULM battery will help to support AVIC's ambition to develop the MA700 as the world's most advanced medium and short-range turboprop regional aircraft.
The contract with AVIC builds on our track record of success as a supplier to China's growing aviation sector," said Chuck Schofield, Saft's Aviation General Manager. Saft's ULM batteries are designed, manufactured and assembled in Bordeaux (France) factory. Saft has been active in the aviation market for more than 80 years and has designed and manufactured high-tech battery systems for two-thirds of all civil and military aircraft. Saft has developed battery technology to meet the increased electrical demands of More Electric Aircraft (MEA) platforms and is a dedicated partner in the support and service of its fleet of on-board batteries.