Lucknow. 04 February 2020. Saab is set to be part of Defexpo India 2020 where it continues to team up with India for its defence and security needs. At Defexpo 2020 Saab will demonstrate how its advanced technology and innovative thinking can deliver the best solutions for strong national defence and an independent industrial future for India. Please visit us at Defexpo 2020 in Lucknow from 5-9 February.
Saab's commitment to build an aeronautical ecosystem in India along with local system suppliers is undiminished. Saab will be a partner in the continuing the development of a world-class Indian defence industry. Saab is best-placed to deliver true transfer-of-technology and long-term industrial cooperation to design, produce, support and innovate in India. As part of its global supply chain Saab hopes to establish an industrial network that will be the heart of the Gripen programme for the Indian Air Force.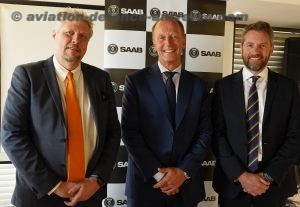 "Saab will contribute to India's vision of building a larger indigenous defence industry, and help build capability that will enable India to design and build its own next-generation defence systems.At Defexpo India 2020, we showcase our latest technologies which are changing defence and security planning, deployment and future force readiness. We hope that our proven perspective on technology sharing along with our ambition to build an ecosystem in India to sustain and develop capabilities will create long lasting benefits far beyond the initial contracts, and form a joint future for the next century," said Ola Rignell, Chairman and Managing Director, Saab India Technologies.
Saab products and systems on display at Defexpo India 2020, in Hall 3, Stand S3 will include:
Gripen E: Gripen combines exceptional operational performance, highly advanced net-centric warfare capability, sensor fusion, unique BVR capability, cost efficiency with true transfer of technology and a comprehensive industrial partnership.
Skeldar VTOL UAV is a NATO-compliant, heavy fuel-powered, fully autonomous VTOL UAV designed for harsh environments and proven in both land and maritime operations. The Skeldar can take-off and recover in small, restricted areas with minimum preparation and minimum support. Its modular design makes it easy to adapt and customise a wide range of payloads.
Giraffe 1X is a compact lightweight high-performance 3D radar for fixed, mobile or deployable applications with a small footprint which is easily integrated in any type of platform. It is a ground-breaking capability for short range air surveillance and ground based air defence.
Carl Gustaf M4 is the man-portable multi-role weapon system that provides high tactical flexibility through its wide range of ammunition types. It weighs less than 7 kg and meets the needs of modern conflict environments while offering compatibility with existing ammunition and future innovations such as the Guided Carl Gustaf Munition. This will provide pinpoint, multi-target engagement capability at substantially extended ranges.
AT4CS AST is a lightweight, man-portable, unguided and fully disposable weapon system, optimised for ease of operation and maximum versatility.
The Next-Generation Light Anti-tank Weapon (NLAW) systemis a shoulder-launched, top attack anti-tank missile system that is a true tank killer for infantry. It operates dismounted in all environments including built-up areas.
Signature Management Systems: Saab's Mobile Camouflage System, a tailor-made, multi-spectral (visual, near IR, short wave IR, thermal IR and radar from 1 to 100 GHz), multi-purpose system for mobile fighting platforms enhances survivability and sustainability in the battlefield. Saab's range of Multi-Spectral Camouflage Nets including the Advanced Reversible Camouflage Screen and C-90 Net protect all kinds of vehicles and other static military equipment.
The AUV62 System is the latest generation of Saab modular AUV systems. The AUV-62-MR for mine reconnaissance has a high-resolution side-looking sonar. It can autonomously search for and identify sea mines with a high area search capability. High-resolution images give excellent situational awareness and data.
The Double Eagle Sarov can operate both as an AUV, with an onboard inertial navigation system, and as an ROV with a several kilometres-long fibre optic tether. For MCM operations the Double Eagle Sarov can be used for detection, classification and disposal.
The Saab Light Weight Torpedo (SLWT) is a new anti-submarine warfare solution that gives total control of the challenging littoral environment and operates equally well in both shallow and blue water.