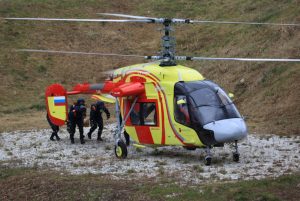 Moscow. 10 August 2017. The Russian Helicopters Holding Company together with Iran Helicopters Support and Renewal Company (IHSRC) will test the light utility helicopter Ka-226T for its usability at extremely high temperatures.
The tests will be conducted on the Iranian company site within the framework of a memorandum signed by the parties in May 2017 at the international exhibition HeliRussia-2017. The Ka-226T has already arrived at Iran and started its first test flights.
The objective of these tests that will continue until the end of August is to prove the usability of the Ka-226T at ambient temperatures of up to +50°C.
Moreover, in early September, Russian Helicopters together with IHSRC are going to hold a conference in Iran to acquaint the potential customers with the test results, specifics of the Ka-226T operation and its competitive advantages.
"Testing of the Ka-226T in the extreme climatic conditions of Iran will make the helicopter even more attractive for the potential operators not only in this country but also throughout the Middle East. We can notice the great interest towards this helicopter in the region even now, and we hope that our cooperation with our partners from IHSRC will allow us to turn this interest into several contracts and agreements," said Andrey Boginsky, CEO of Russian Helicopters.
The light utility helicopter Ka-226T has a coaxial twin-rotor system, its maximum takeoff weight is 3.6 t, and it is able to transport up to 1 t of payload. The main distinctive feature of the helicopter is its modular design – a transport cabin that can carry up to 6 people or modules with special equipment can be easily installed on the Ka-226T. Improved performance characteristics of the Ka-226T, its eco-friendly features, cost effectiveness, advanced avionics and additional flight safety solutions make this helicopter one of the best models in its class.