Highly cost-effective, the SkyStar aerostat systems are ideal for Coronavirus (Covid19) days and post Coronavirus days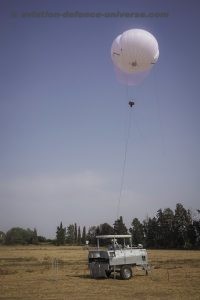 Tel-a-Viv. 05 May 2020. During the ongoing worldwide Coronavirus crisis, governments and defense forces around the world are looking for cost-effective surveillance means to secure borders from illegal crossing, and strategic facilities. RT LTA Systems Ltd., developer and manufacturer of the SkyStar aerostats family, steps-in and offer its SkyStar 180 aerostat systems at a special price for a limited time. The SkyStar 180 aerostat systems are produced in RT's new and elaborated assembly line, and available for immediate delivery.
RT's SkyStar 180 aerostat is a cost-effective mean for border control, HLS, defense, and security missions, as it provides persistent surveillance and communication over long periods at a very minimal cost. Only two people are required to deploy the system. The SkyStar aerostats can operate in harsh weather conditions, and offer availability of over 85% in any given area. The systems have already accumulated more than 2 million operational hours worldwide.
Rami Shmueli, RT's CEO: "During the ongoing Coronavirus crisis, governments around the world want to make sure that while most of the citizens are staying indoor, their borders are protected, and no one is wandering around in places they shouldn't be. Looking forward to the day after the crisis, countries around the world and especially in Europe will see masses of illegal immigrants at their borders, trying to enter the country. RT's SkyStar aerostats allow protection of large open areas such as borders at a minimal cost of 20$ per day. No other defense systems, manned or unmanned, is as cost-effective as aerostats, which can operate continuously for days with minimum maintenance".
RT has recently inaugurated a new and elaborated assembly line which allows a much faster and more efficient production process, and decided to offer its SkyStar 180 aerostat systems at a special price for a limited time.
"In days like these," Mr. Shmueli added, "while our aerostat systems are operating continuously in many different countries around the world, we are pleased to have the possibility of offering our systems for immediate delivery."