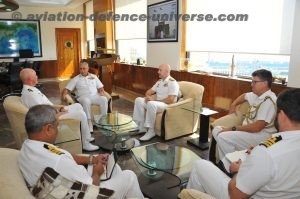 New Delhi. 29 January 2020. Royal Australian Navy (RAN) Ship HMAS Toowoomba is currently on a visit to Mumbai. Commodore Ray Leggatt, Commander Combined Task Force (CTF) – 150 and Commander Mitchell Livingstone, Commanding Officer, HMAS Toowoomba called on the Chief of Staff, VAdm RB Pandit at the Headquarters of the Western Naval Command.
HMS Toowoomba is on an Overseas Deployment in the region under operational control of CTF-150.
The visit of the RAN ship and the professional interactions of IN personnel with RAN crew will serve to further strengthen the good relations between India and Australia and underscore the shared interests in the maritime domain.
_________________________________________________________________________