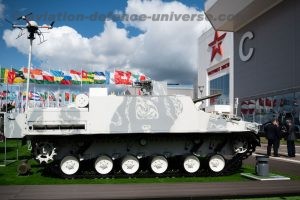 24 August 2021. The High Precision Weapons Holding of the Rostec State Corporation has shown an 'Arctic' version of the BT-3F (БТ-3Ф) armored personnel carrier adapted for operations at the Far North at the International Military-Technical Forum "Army-2021".
The carrier is equipped with a 12.7mm caliber autonomous combat module featuring an integrated thermal imager and a laser rangefinder. This armored vehicle is designed to transport motorized infantry or specialized troops; it can also serve as a tactical command center or a medical service vehicle.
The infantry fighting vehicle BMP-3F (БМП-3Ф) served as the basis for the armored personnel carrier, but it was adapted for performing special tasks in extreme temperature conditions. It features an insulated body, an autonomous heating system capable of keeping cabin temperature above zero even when the main engine is stopped. In addition, BT-3F runs on the specialized tracks with lower ground pressure. This has significantly extended its off-road performance.
"An upgraded 'Arctic' BT-3F inherited the exceptional protection and mobility from its predecessor, the BMP-3F, while gaining additional capabilities for operating at low temperatures, down to minus 50 degrees Centigrade. This vehicle is equipped with a 450HP engine and has a fuel endurance of 600 km; it is amphibious and can be landed from an aircraft using heavy-duty parachute systems or even be externally loaded into an MI-26 helicopter. The machine can significantly boost the combat capacity of troops operating in the Arctic," says Bekhan Ozdoev, Industrial Director of the Rostec's Cluster for Armament, Ammunition, and Special-Purpose Chemistry.
Depending on its version, BT-3F can transport up to 15 soldiers in addition to the crew and some supplementary equipment, such as an unmanned reconnaissance and targeting system.
The armored personnel carrier has been designed by the Special Design Bureau for Machine Engineering (SKBM) and Kurganmashzavod company, which are part of the High Precision Weapons Holding. The special-purpose camouflage has been developed by the 2050.LAB National Center for Industrial Design and Innovations.
High Precision Weapons Scientific Production Association JSC was founded in 2009 to consolidate scientific and engineering capabilities of a group of specialized companies in order to design, based on innovations and engineering upgrades of the manufacturing facilities, armaments, military and special-purpose equipment (AMSE) that are present in the area of high-precision weapons and capabilities for tactical combat operations. The company is a part of the Rostec State Corporation.
Rostec Corporation is one of the largest industrial companies in Russia. It incorporates over 800 research institutions and companies in 60 regions of Russia. Core areas of business include aircraft engineering and manufacturing, radio electronics, healthcare technology, innovative materials, etc. The corporation portfolio also comprises such famous brands as AVTOVAZ, KAMAZ, UAC, Russian Helicopters, UEC, Uralvagonzavod, Shvabe, Kalashnikov Group, etc. Rostec is proactively involved in the implementation of all twelve National Projects. The company is a key supplier of the Smart City technology and is involved in digitizing public administration, industrial manufacturing, and social sector; it is also developing plans for the rollout of 5G wireless technology, industrial internet of things, big data, and block chain systems. Rostec acts as a partner of such leading global manufacturers as Boeing, Airbus, Daimler, Pirelli, Renault, and others. Products of the corporation are supplied to over 100 countries. Almost one third of the company's revenues comes from exporting high-tech products.