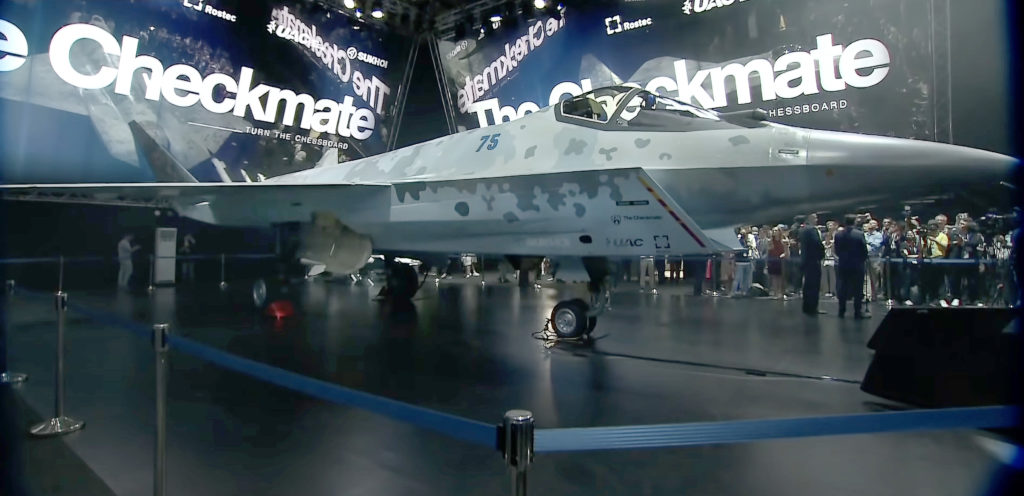 Dubai. 12 November 2021. Rostec revealed the elements of the perfume dedicated to the fifth-generation fighter The Checkmate. The new video was published today on the official Rostec YouTube channel and The Checkmate project website. The video description explains that the project is dedicated to the fighter's international debut, which will take place on November 14 in Dubai, at the Dubai Airshow 2021.
"Checkmate is a fifth-generation fragrance. For those who control the game," says the 30-second video.
The video makes references to the key features and unique characteristics of the fighter jet. The golden lines of the soaring single-engine Checkmate aircraft flow smoothly along the outline of a black knight chess piece. A full-size bottle appears through the rotating metal engine blades, and the gift box, when opened, unfolds into a black and white chessboard, re-emphasizing the slogan "Turn the Chessboard".
Details of the project have not as yet been disclosed. According to the philosophy of the Russian fighter product line, Checkmate is the knight chess piece positioned on a geopolitical chessboard: a very light and valuable combat unit capable of deciding the outcome of the game.
The light tactical fighter has an outstanding range, speed and weight-lifting capacity for its class, as well as unique characteristics of onboard equipment, low visibility, and ability to counter both modern and advanced air defense systems.
The newest fifth-generation Checkmate fighter was premiered at MAKS 2021 air show last July. The aircraft will be shown abroad for the first time at the international Dubai Airshow 2021. The event will take place from November 14 to 18.