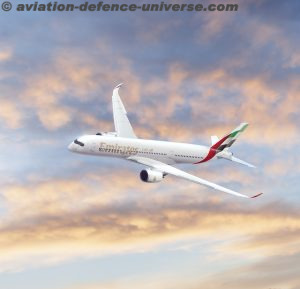 Rolls-Royce (LSE: RR., ADR: RYCEY) today announces it welcomes Emirates' order for 15 Trent XWB-84 powered A350-900s. This takes its total order for the Trent XWB family to 130 engines, which will start to deliver in 2025.
Today's order confirms the airline's confidence in this winning aircraft/engine combination, which has set an industry benchmark for efficiency and reliability.
This order will add to Emirates' existing Rolls-Royce fleet of 132 Trent 900s.
Rob Watson, President, Rolls-Royce – Civil Aerospace, said:
"Today's announcement proves once again that our customers have confidence in the power of the Trent XWB to support their expanding operations.
"With proven reliability and versatility, the Trent XWB – the world's most efficient large aero-engine in service – is the ideal platform to support Emirates as it continues to expand its network.
"Rolls-Royce's relationship with Emirates began in 1996 with selection of Trent power and we look forward to continuing this valuable partnership far into the future."
HH Sheikh Ahmed bin Saeed Al Maktoum, Chairman and Chief Executive, Emirates airline and Group, added:
"The A350-900s will add to our fleet mix and we are pleased to announce additional orders for this aircraft type. We plan to deploy our A350s to serve a range of new markets including long-haul missions of up to 15 hours flying time from Dubai.
"We will work closely with Airbus and Rolls-Royce to ensure our aircraft deliver the best possible operating efficiency and flying experience for our customers."
"Emirates' orders this week are all carefully planned to support our future growth and the Dubai economic vision set out by HH Sheikh Mohammed bin Rashid Al Maktoum. The Emirates experience is often the first visitor experience of Dubai – and we want it to be   the best."
More than 56 customers have chosen to order and/or operate the Trent XWB, which is the world's most efficient large aero-engine in service.
As versatile as it is reliable, the Trent XWB has already shown it is equally efficient at powering short-haul or long-haul flights, which makes it the ideal solution for passenger and freighter operators with a varied network.
With a 15 per cent fuel consumption advantage over the first generation of Trent engine, the Trent XWB goes further on less fuel, and offers leading performance and noise levels. It is also certified to operate on a 50% Sustainable Aviation Fuel (SAF) blend today and has been proven to be compatible with 100% SAF for the future.