The Skyview grandstand arena will return for the 2023 edition of the leading international aviation event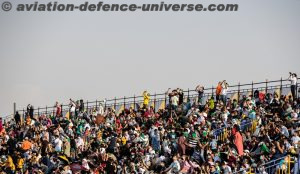 DUBAI, United Arab Emirates – 10 November 2023: Skyview, the purpose-built grandstand arena, will return to Dubai Airshow 2023, welcoming members of the general public, including families and children, to witness the remarkable daily flying display at Dubai World Central (DWC), Dubai Airshow Site, from 13-17 November.
Visitors to Skyview will be able to watch all the live action from the runway, where the world's best pilots will be flying cutting-edge military aircraft, luxurious private planes and some of the most-respected commercial airliners.
Some of the flying teams include Frecce Tricolori, the Italian Air Force's aerobatic demonstration team; Fursan Al Emarat, the United Arab Emirates Air Force aerobatic display team; Sarang, the helicopter air display team of the Indian Air Force; and August 1st, the aerobatic demonstration team of the People's Liberation Army Air Force (Chinese Air Force).
The Dubai Airshow is a monumental event in the global aerospace and defence calendar and the Skyview grandstand arena will give the general public the chance to be a part of it and explore the rich history of the industry. There will be the opportunity to meet real life superheroes of the skies and space, with daily appearances from pilots and astronauts, live entertainment from military bands and live DJs, and military and police units will be bringing their collections and expertise to the arena.
Seating is on a first come, first served basis, and parking is available but highly limited. To avoid disappointment, visitors are encouraged to use the metro and free shuttle buses, which will operate from Ibn Battuta metro station directly to the Dubai Airshow site. The first shuttle bus from Ibn Battuta metro station to Skyview will leave at 11am, and the last shuttle bus returning from Skyview to Ibn Battuta metro station will leave at 7pm.
The Grandstand will be open from 1.00pm to 5.30pm from 13-17 November. Access for the general public will be limited to the Skyview grandstand arena only and not the main Airshow exhibition hall.