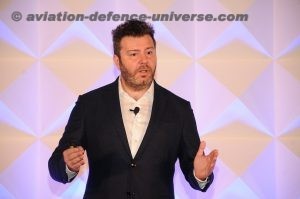 Singapore. 06 April 2018. "RPA is very relevant to the airline industry in India.  India is set to have the third largest aviation market in the world by 2025, as India's Middle Class grows and start to travel for leisure and business. Currently, with more than 90% of a plane's flight being operated by a computer, the future only entails even more back-end processes to be carried out by machines ," reiterated Daniel Dines, CEO of UiPath Robotic Process Automation in an exclusive interview with Aviation & Defence Universe(ADU).
ADU. What is RPA and what is its relevance to the airline industry in India?
DD. Robotics Process Automation (RPA) is a software of robots that can carry out a multitude of repetitive rules-based tasks that are usually executed by human manpower on their computers. RPA is able to automate business processes and tasks by mimicking the actions and daily tasks taken by employees as they manually perform their duties.
RPA automates many operational functions, including fare auditing and passenger data validation checks. It also enhances the airline manufacturing supply chain, automating labour- and time-intensive processes such as procurement, inventory management and payment processing.
Most importantly, its benefits compound as employees are freed from the burden of routine, monotonous manual work, enabling them to focus on high-value tasks such as improving customer service, enabling front-line staff to retrieve more data at a faster rate and enhancing every aspect, from the booking experience to customer service support . This leads to greater employee satisfaction and more productive staff who deliver better customer service experience and positive feedback from travellers.
ADU. How developed is RPA within the airline industry? Can you provide any used cases?
DD. RPA as a technology is still very young and is rapidly growing. RPA as an industry has grown considerably and is expected to be worth $USD5 billion by 2024 . Currently, the finance sector has been quick to adopt RPA. Like financial institutions, most airline companies face similar challenges of old, 'legacy' IT systems and high volumes of transactions. As such, airlines are beginning to embrace RPA, especially when they realise the benefits. For example, RPA can help overcome one major challenge, being the current utilisation of outdated and inefficient IT systems that stifle growth and restrict innovation.
UiPath is currently working with large and small airline firms around the world, including Lufthansa. One of our clients, a major international airline, started to use our solution in O2C for their billing in Shared Services. There is a need to access two different SAP-Systems (ERP) and some additional repository to create the invoices for their customers. Using UiPath delivered a fast ROI and reduced the former manual work dramatically.
ADU. What type of airlines is RPA most suited to? Traditional vs. low cost ?
DD. RPA is suitable for any organisation that contains large volumes of data entry and switching among various applications. It is not restricted to one type of airline carrier. RPA serves to automate specific tasks, especially ones that are mundane and repetitive. Due to the number of roles in an airline company's back-end that comprise of a high percentage of activities related to data collection and processing, the impact on airlines will be profound. Moreover, RPA is popular among airline carriers who aim to provide a higher level of customer service, specifically the speed of service delivery with a 100% accuracy. With 95% of tasks within mature organisations being repetitive , airlines will be able to utilise UiPath's RPA solution to imitate the activity of humans and free their employees from tedious and monotonous duties, hence concentrating more on client interaction.
For established legacy carriers, RPA will allow them to overcome many of the challenges that their older IT systems pose. For newer carriers, RPA will enable them to scale at a much more rapid pace, potentially out-manoeuvring their more established rivals.
ADU. What particular challenges is RPA able to tackle for airlines?
DD. Many legacy carriers find it hard to respond quickly to changing customer demands and expectations, mainly thanks to their old, inefficient legacy IT systems that are prone to failure. Coping with this not only incurs costs for the airline but also affects the firm's flexibility, growth and quality of customer service. With wholesale revamps of IT systems being extremely costly and disruptive, many airlines are turning to RPA as a solution.
Essentially, RPA is a technology solution which aims to put people back at the heart of the travel industry. It can automate many repetitive tasks that are carried out by staff in almost every industry, including travel. By utilising computer vision, the software replaces human interaction and can take over the tedious duties that were previously done by employees. Travel agencies usually handle many high volume, transaction-based processes and they routinely deal with multiple airlines, from legacy carriers with obsolete IT systems, to newer low-cost carriers. As such, employees often interact with different management systems, styles of invoice, itineraries, processes and data, in turn increasing the likelihood of errors. Upon adopting RPA, this data can be immediately stored in the right place, checked and retrieved easily, at any time.
With staff only being deployed to carry out the final checks, both time and costs are significantly reduced. This enables airline companies to assign their employees to more front-line and customer-centric aspects of the business. In addition, RPA supports rapid expansion, allowing airline companies to scale at a faster rate and with much ease, from the automated workflows that have been created and distributed across the organisations' multiple departments. This in turn enables them to experience a rise in travel frequency.
ADU. What additional value can RPA bring to India? Where does AI fit into this?
DD. The main aim of airline companies is to drive a seamless and convenient consumer-oriented experience across various touch-points. Research has shown that 88% of consumers expect a seamless transition between automated self-service technologies and a human agent during a booking, making a purchase or while getting in touch with customer service .  RPA combined with AI is able to provide this.
RPA's applications are also automating more complex operations, allowing airlines to improve the quality and timeliness of their services. With the growing application of Artificial Intelligence (AI) and its ability to handle much larger amounts of unstructured data, customer experience is only expected to rapidly improve. The collaboration between RPA and AI, also known as intelligent automation, is bound to create an even more personalised travel experience. AI can handle tasks that require complex decision-making and analysis that include natural language processing, providing recommendations and offering online customer support. At the same time, RPA can autonomously adjust prices of flights depending on demand, weather, seasonality etc.
Marketing automation will also be incorporated to further personalise messages and interactions. From the on-hand data on customers' preferences, the software can independently predict upcoming holiday destinations, offer restaurant recommendations and even suggest recreational activities for customers. Besides the usual back-end processes, RPA, alongside AI, can enable chatbots and support call centres, further enhancing customer engagement and service, by collating feedback and continuing to improve the consumers' experience .
Following our recent Series B funding round (USD$153 million), UiPath will be doubling its workforce in India and opening two new offices. We think this is just the beginning for RPA in India and look forward to bringing this technology to more and more airlines.
ADU. What is UiPath and what kind of airline and aviation clients do you have?
DD. UiPath was founded in 2005 in Bucharest, Romania. Back then, we were focused on developing automation components for software firms. In 2013 we introduced our first RPA technology based on a separate User Interface. In 2015 we released our Enterprise automation platform, which enabled hundreds of processes to be automated. In 2016 we opened offices in India, the UK, USA (HQ) and Singapore.
Today, UiPath is based in New York City, and UiPath's presence extends to 14 countries throughout North America, Europe, Middle East and Asia. UiPath has more than 700 enterprise customers and government agencies that use UiPath's Enterprise RPA platform to rapidly deploy software robots that perfectly emulate and execute repetitive processes, boosting business productivity, ensuring compliance and enhancing customer experience across back-office and front-office operations. UiPath also has a thriving RPA developer community of more than 120,000 worldwide.