Raytheon Technologies is formed
A merger of equals
By Sangeeta Saxena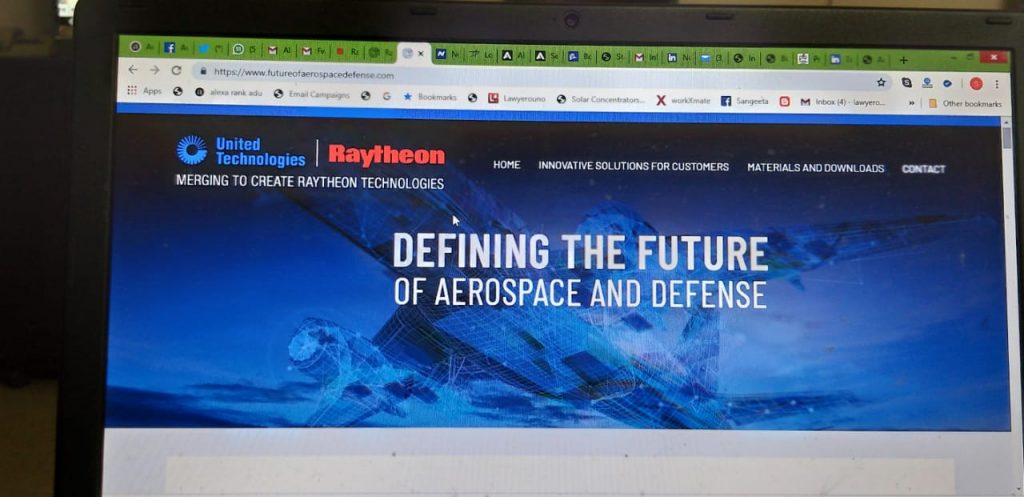 New Delhi. 28 June 2019. As the decade nears its end this is the biggest news of the aerospace world. It is the mother of all mergers which have happened in the aerospace world. The two US aerospace giants United Technologies and Raytheon are both set to combine in what will be a Merger of Equals.
They have entered into an agreement to combine in an all-stock merger of equals. The transaction will create a premier systems provider with advanced technologies to address rapidly growing segments within aerospace and defense.
This merger will not only mean that two great companies will cease to exist but will also mean that Raytheon, a defense company, and United Technologies, an aerospace company which comprises of Collins Aerospace and Pratt & Whitney, will offer a complementary portfolio of platform-agnostic aerospace and defense technologies.
The combined company, which will be named Raytheon Technologies Corporation, will offer expanded technology and R&D capabilities to deliver innovative and cost-effective solutions aligned with customer priorities and the national defense strategies of the U.S. and its allies and friends. The combined company will have approximately $74 billion in pro forma 2019 sales.
Under the terms of the agreement, which was unanimously approved by the Boards of Directors of both companies, Raytheon shareowners will receive 2.3348 shares in the combined company for each Raytheon share. Upon completion of the merger, United Technologies shareowners will own approximately 57 percent and Raytheon shareowners will own approximately 43 percent of the combined company on a fully diluted basis.
The merger is expected to close in the first half of 2020, following completion by United Technologies of the previously announced separation of its Otis and Carrier businesses. The merger is intended to qualify as a tax-free reorganization for U.S. federal income tax purposes.
" Raytheon Technologies will continue a legacy of innovation with an expanded aerospace and defense portfolio supported by the world's most dedicated workforce," said Tom Kennedy, Raytheon Chairman and CEO. "With our enhanced capabilities, we will deliver value to our customers by anticipating and addressing their most complex challenges, while delivering significant value to shareowners."
"The combination of United Technologies and Raytheon will define the future of aerospace and defense," said Greg Hayes, United Technologies Chairman and CEO. "Our two companies have iconic brands that share a long history of innovation, customer focus and proven execution. By joining forces, we will have unsurpassed technology and expanded R&D capabilities that will allow us to invest through business cycles and address our customers' highest priorities."
The combined company expects to return $18 to $20 billion of capital to shareowners in the first 36 months following completion of the merger. As a result of the combination, the company also expects to capture more than $1 billion in gross annual run-rate cost synergies by year four post-close, with approximately $500 million in annual savings returned to customers. In addition, the combination presents significant long-term revenue opportunities from technology synergies.
Raytheon plans to consolidate its four businesses into two businesses to be named Intelligence, Space & Airborne Systems and Integrated Defense & Missile Systems. The new businesses will join Collins Aerospace and Pratt & Whitney to form the four businesses of Raytheon Technologies.
Pro Forma Capital Structure Net debt for the combined company at the time of closing is expected to be approximately $26 billion, with United Technologies expected to contribute approximately $24 billion. The combined company targets an 'A' category credit rating at the time of the closing. Leadership and Governance
The combined company's Board of Directors will be comprised of 15 members, consisting of 8 directors from United Technologies and 7 from Raytheon, with the lead director from Raytheon. Tom Kennedy will be appointed Executive Chairman and Greg Hayes will be named CEO of Raytheon Technologies. Two years following the close of the transaction, Hayes will assume the role of Chairman and CEO.
Raytheon Technologies will be headquartered in the greater Boston metro area, and will retain a corporate presence in existing locations. The company will be led by a highly experienced, proven leadership team with a strong track record of innovation, delivering on synergies, and meeting financial and customer commitments.
5 Advisors Citigroup Global Markets Inc. is acting as financial advisor to Raytheon, and RBC Capital Markets LLC provided a fairness opinion. Shearman & Sterling LLP is serving as legal advisor to Raytheon. Morgan Stanley & Co. LLC, Evercore, and Goldman Sachs & Co. LLC are acting as financial advisors to United Technologies. Wachtell, Lipton, Rosen & Katz is serving as legal advisor to United Technologies. No offering of securities shall be made except by means of a prospectus meeting the requirements of Section 10 of the U.S. Securities Act of 1933, as amended.
And as the day gets near for all of us who covered the Gulf War can never forget that it was there when Raytheon came to be a household name after Patriot achieved the first-ever ballistic missile intercept in combat during Desert Storm. United Technologies Corporation has a long and rich history dating back to The United Aircraft and Transport Corporation which took birth in 1929 as an aviation based company, and it was formed by William Boeing of Boeing Firms and Frederick Rentschler of Pratt & Whitney. As time progressed UTC bought Sikorsky Helicopters which has the credit of ferrying the US Presidents from Roosevelt to Trump. Two organisations with rich history and this handshake to be one will make a conglomerate which will create a richer future in the aerospace & defence world. Nothing wrong in being positive! But the aerospace and defence world will definitely miss its two entities Raytheon and UTC. Long live Raytheon Technologies Corporation!