Innovation is the key word for India's Ramco Systems
Air France Industries  and KLM Engineering & Maintenance optimistic of Ramco's ingenuinity
By Sangeeta Saxena
Singapore. 18 February,2016. In an era where low cost is the mantra,  airlines are trying to find ways and means to reduce costs, in an industry with very low margins, India's Ramco Systems is  on a continuous innovation spree to get the MRO industry  straight-through processing  by cutting down AOG (aircraft on ground) time and lessening TAT (turnaround time), to keep  the aircraft in a jet-set-go situation always .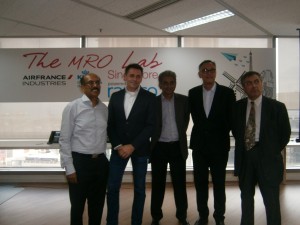 The first of its kind in Asia, this lab is all set  to develop advanced aviation IT solutions such as wearables  for ground engineers and drones to inspect aircraft on the tarmac . The MRO Lab  Singapore was declared open  by Ramco Systems  with Air France Industries-  KLM Engineering & Maintenance ,  as the first anchor partner.
Virender Aggarwal, CEO of Ramco not only the brain but also the energy behind the vibrant team, believes in the dictum that  brightest minds and crazy ideas give the best results. "Innovation and disruptive technologies are key to the growth of the aviation MRO industry, where many manual procedures could be improved. This Lab positions us at the forefront of research in this sector, which will benefit airlines across Asia, if not the world. We are glad to have an anchor customer in AFI KLM E&M who shares the same passion to develop solutions that can transform operations in the aerospace industry," he said.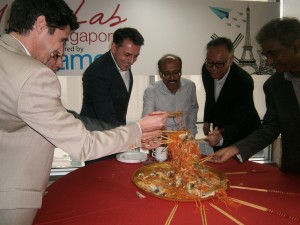 Supported by the Singapore Economic Development Board ("EDB"), the lab launched at the sidelines of Singapore Airshow, will work on next-generation applications and develop intellectual property  to solve major problems facing aviation industry's  maintenance, repair and overhaul .
The formation of the Lab comes amidst rising concerns that the global MRO industry is trailing in innovation and could face major bottlenecks amidst continued growth in international air traffic, as well as expansion of airports.
"We are pleased that Ramco has chosen Singapore to establish their largest Innovation Lab outside of India. Through this Lab, Ramco will work with leading aerospace companies and airlines in Singapore to co-develop and catalyse lead adoption of transformative digital solutions. The collaborations will enable delivery of greater value and new services offerings for the industry from Singapore," said Lim Kok Kiang, Assistant Managing Director, Singapore Economic Development Board.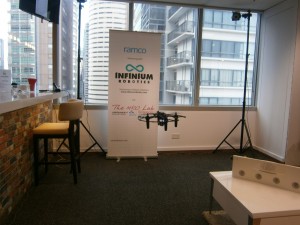 Located at Ramco's regional headquarters in Singapore, the Lab  will gradually scale up to employ more than 50 global innovators in Singapore, who will work on solutions such as"Internet of Things", or embedded sensors for aviation components, machine learning equipment which can cut down on manual maintenance and checking, analytics for engineering planning and optimisation to reduce aircraft on ground ("AOG"), robotics for the shopfloor and drones to inspect aircraft on the tarmac and wearable devices including Google GlassT for on-ground engineers. The facility will serve as a collaborative platform for airlines and disruptive tech companies, which Ramco and AFI KLM E&M intend to facilitate with other aviation-related researchers.
P R Venketrama Raja, Vice Chairman & Managing Director, at Ramco Systems, said, "With its strategic location and business-friendly environment, Singapore is growing in prominence as a preferred investment hub. We are happy to have partnered with Singapore EDB in setting up this co-innovation Lab, which will be the platform for developing solutions that can transform operations for the complete eco-system of the aerospace industry."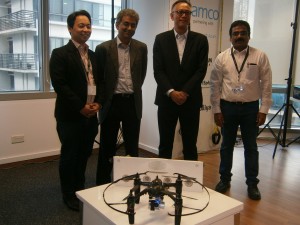 The confidence of the collaborative partner AFI KLM E&M in Ramco's strength as an enabler and its capabilities to automate the MRO industry  was evident from the fact that the faith of their list of two hundred plus customers will be on Ramco's innovations and it is they who would eventually benefit from the use of these technological advancements in MRO industry of the aviation sector.
Fabrice Defrance, Senior Vice President Commercial EVP of AIR FRANCE KLM Engineering & Maintenance, welcomed the opening of the centre, saying: "We are proud to extend our R&D capability and anchor it in the heart of Singapore, one of the world's greatest innovation platforms. In being able to benefit from the combined expertise of two acknowledged MRO sector players, the MRO Lab Singapore will be able to offer in very short order innovative solutions that are likely to deliver real benefits to our clients."
Ton Dortmans, Executive VP, Air France Industries KLM E&M, said , "The team working at The MRO Lab Singapore will be able to benefit from the respective expertise of our two groups in support of their work. This will focus on priority topics identified by their strategic character, from wearable technology to optimisation and big data-linked applications, improving customer relations and streamlining and monitoring of maintenance data, and so on.
The era of offering IT services alone is over and Ramco has proved this. In the last couple of years, the emphasis has been on product development only. For airlines, the main advantage is the integrated solution, ease of use, the process automation, and straight through processing. If, for example, there is a part that needs to be put through to repair, the traditional way is to do it step-by-step: look at the repair, what items need to be issued, and then send it out, and then send it back; all these can take many steps with several users intervening, and this takes time. Ramco has cut down those configuration parameters in the system. Where there is a straight forward case, the system automatically takes it through the process with minimal need for intervention. So the user or the mechanic or the supervisor can focus on their jobs, and the reporting is done at the end, rather than at every step somebody pushing the button to take it to the next step. Ramco promises to make airplanes easier to maintain keeping in mind safety of the passengers as top priority.