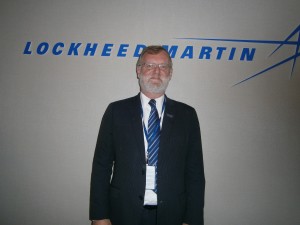 By Sangeeta Saxena
Singapore. 18 February,2016. This was like a Bollywood blockbuster where in scene one a US Congressional notification says that US will sell eight F16s to Pakistan, scene two where India's foreign ministry summoned US envoy, Richard Verma, to protest the sale, scene three Pentagon  downplays Indian concerns, indicating the F-16s were being supplied for counter-terrorist operations in Pakistan's federally administered tribal areas (FATA) and scene four CEO India of Lockheed Martin Corporation- the company which manufactures F16s – offers to develop a facility in India that would build these fighter jets.
Phil Shaw, the India head of Lockheed Martin when met the media at the Singapore Air Show offered to build the F-16 aircraft in India with an Indian partner to match steps with the 'Make in India' process. Coming over directly from the Make in India celebrations at Mumbai, Shaw reiterated that this was nothing new and  Lockheed Chairman, President and Chief Executive Officer Marillyn Hewson made the offer to Indian Prime Minister Narendra Modi in September, when he was in US and the two governments are in talks. Replying in the negative he stressed that nothing is a deterrent to Lockheed's growing relationship with India.
As always Phil vouched that the company is not in India to sell and walk away – it is here to stay and that Lockheed Martin is committed to a long-term partnership in technology development, manufacturing and strategic collaboration with Indian companies from both the public and private sectors. "We have been into Make in India for long and match our steps perfectly with Prime Minister Modi's agenda." Lockheed Martin has already decided on India as its best option for low-cost and highly qualified engineering workforce, and the final go on this is dependent on approval from New Delhi and Washington.
On being asked about the acquisition of Sikorsky,  Phil confirmed that the brand Sikorsky will remain. "Lockheed Martin and Sikorsky are aviation pioneers. Over the past 100 years, the two companies helped to build an industry, share a passion for innovation, a commitment to supporting the defence forces  and an unwavering dedication to the highest standards of ethics and integrity thereby being just right for each other. In India Sikorsky's commercial footprint will be an added advantage to business," he said.
It may be recalled that Sikorsky and Lockheed Martin had both positioned to sell the MH-60R helicopter to India for its Navy helicopter competition, with Sikorsky providing the airframe and Lockheed the systems integration. In addition to being part of DTTI initiative, both companies operate joint ventures with India's Tata Advanced Systems.