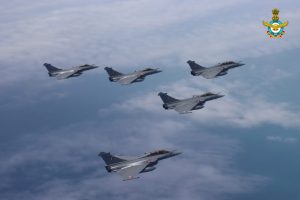 New Delhi . 29 July 2020. Final countdown to Rafale entering IAF inventory has begun as the five IAF Rafale fighter jets which had taken off from Al Dhafra UAE base at 1140 hrs, entered Indian air space from the west of Gujarat, over Jamagar. The fleet which included the mid air refueller A 330 MRTT of the French AirForce was met and escorted by an Indian Air Force's two Su-30MKIs .
Indian Rafale contingent established contact with Indian Navy Warship INS Kolkata deployed in Western Arabian Sea and got a welcome to India message from the ship. " Welcome to the Indian Ocean. May you touch the sky with glory. Happy landing," INS Kolkata said in a brief interaction with the Rafale pilot. The Rafale pilot responded with, " It is so assuring to see the Indian Navy guarding the seas."
Airforce Chief, Air Chief Marshal RK Bhadauria to receive them. They have flown over 7,000 kms from France with a stop over in UAE. Rafale jets could land at Jodhpur airbase if weather over Ambala fails to improve, but at the moment all is well is the signal and the jets will land in their home.
---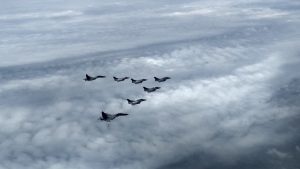 These Rafale jets are absolutely the state-of-the-art with can reach almost double the speed of sound, with a top speed of 1.8 Mach has a Wing span of 10.90 m, Length of 15.30 m, Height of 5.30 m, Overall empty weight of 10 tonnes, External load of 9.5 tonnes and Max. take-off weight of 24.5 tonnes.
It can store 4.7 tonnes of fuel internally and externally upto 6.7 tonnes. It has a ferry range of 3,700 km, a landing ground run of 450 m (1,500 ft) and a service ceiling of 50,000 ft.