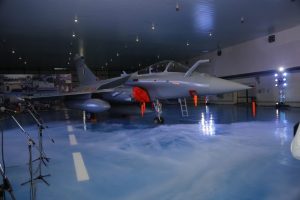 Indian frontiers become stronger
By Brig. VK Atray (Retd.) & Sangeeta Saxena
New Delhi. 10 September 2020. The wait is finally over and the Indian Air Force has inducted Rafale fighter jets into its inventory at Air Force Station, Ambala. The aircraft are now a part of 17 Squadron, the "Golden Arrows". It may be recalled that the the first five Indian Air Force Rafale aircraft had arrived at Air Force Station, Ambala from France on 27th July 2020 and the fighter was officially handed over to the Indian Defence Minister Rajnath Singh at France on 8th October 2019 . IAF will receive all the 36 Rafales by April 2022.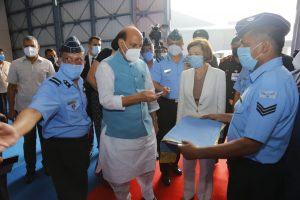 Despite COVID-19 fear and restrictions Rafale was welcomed with warmth and elan into the Indian Air force by Defence Minister of India Rajnath Singh in the presence of Florence Parly Minister of the Armed Forces of France. Chief of Defence Staff General Bipin Rawat, Chief of the Air Staff Air Chief Marshal RKS Bhadauria, Defence Secretary Dr Ajay Kumar, Dr G Satheesh Reddy, Secretary Department of Defence R&D and Chairman DRDO along with other senior officers of Ministry of Defence and Armed Forces were also present to mark a very important milestone in the history of the IAF.
The French delegation was represented by Emmanuel Lenain Ambassador of France to India, Air General Eric Autellet, Vice Chief of the Air Staff of the French Air Force and other senior officials. A large delegation of senior functionaries of French Defence Industries which includes Eric Trappier Chairman and Chief Executive of Dassault Aviation and Eric Beranger, CEO, MBDA were also present during the ceremony.
At Air Force Station Ambala the program started with a ceremonial unveiling of the Rafale aircraft with a traditional 'Sarva Dharma Puja' which was followed by an Air Display by Rafale and Tejas aircraft as well as by 'Sarang Aerobatic Team'.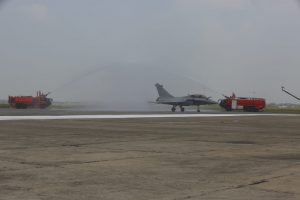 Afterwards, a traditional water cannon salute was given to the Rafale aircraft. The programme culminated with the ceremonial induction of Rafale aircraft to 17 Squadron. IAF aircrew and ground crew have undergone comprehensive training on the aircraft, including its highly advanced weapons systems and are fully operational now.
Rafale literally meaning "gust of wind" and "burst of fire" in a more military sense. It is a French twin-engine, canard delta wing, multirole fighter aircraft designed and built by Dassault Aviation. Equipped with a wide range of weapons, the Rafale is intended to perform air supremacy, interdiction, aerial reconnaissance, ground support, in-depth strike, anti-ship strike and nuclear deterrence missions. The Rafale is referred to as an "omnirole" aircraft by Dassault.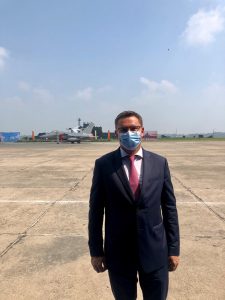 The Rafale will be an envy of all the airforces with its MICA, Scalp and Meteor missiles made by French missile major MBDA. Attending the induction ceremony in Ambala, Eric BERANGER, MBDA Chief Executive Officer declared, " MBDA has built a close partnership over 50 years with India's armed forces. We are very proud to be equipping the IAF's Rafales with a full comprehensive weapon package that includes the game-changing Meteor and MICA air-to-air missiles and the SCALP cruise missile to conduct deep strike missions in a complex and severe environment."
Thales provides a RBE2 AESA radar, the Spectra electronic warfare system, optronics, the communication navigation and identification system (CNI), the majority of the cockpit display systems, power generation systems and a logistics support component.
The Rafale is fitted with twin Safran M88-2 engines each capable of providing up to 50 kilonewtons (11,000 pounds-force) of dry thrust and 75 kN (17,000 pounds-force) with afterburners. The M88 enables the Rafale to supercruise while carrying four missiles and one drop tank.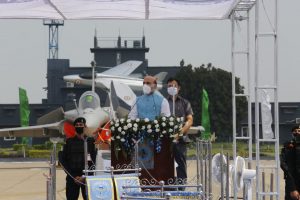 The Rafale can carry up to 9.5 tons of payload (21,000 lbs). To support missions at extended ranges the fighter also carries three 524 gallons (2,000 litre) fuel tanks weighing additional 6.7 tons (14,700 lbs) that will top up the fighter's internal fuel capacity of 4.7 t (10,300 lbs). These fuel tanks can also be used for 'buddy refuelling'.
The 2500 rounds per minute NEXTER 30M791 30 mm internal cannon is available on both single and two-seaters Rafale. It has twin gun pod and a Nexter (formerly Giat) 30mm DEFA 791B cannon, which can fire 2,500 rounds a minute. The Rafale is equipped with laser designation pods for laser guidance of air-to-ground missiles.
After France, Egypt and Qatar India is the fourth nation to have inducted the Rafale, a 4.5 generation combat aircraft into it's Air Force.