Indian Air Force
 Indian Diaspora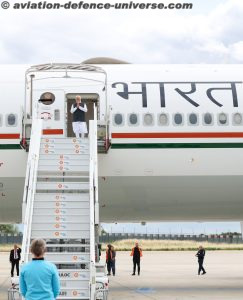 By Team ADU
Orly Airport, Paris. 13 July 2023. It was a red carpet welcome for Prime Minister Narendra Modi in France despite some parts of the city seeing anti-Modi demonstrations. And oblivious to the sloganeering of " Modi you are not welcome in Paris" the leader landed at Orly Airport with the French Prime Minister Elisabeth Borne herself leading the host nation in welcoming him on French soil.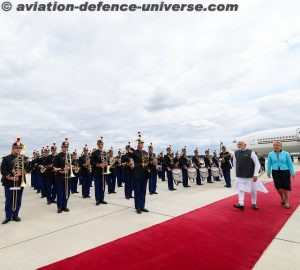 He was accorded a ceremonial welcome with a French Tri-Service Guard of Honour. He is travelling to France on an Official Visit at the invitation of Emmanuel Macron, President of France, from July 13-14. He will join President Macron for the French National Day and witness the Bastille Day Parade in Paris as the Guest of Honour. An Indian tri-services contingent will be part of the Bastille Day Parade, while Indian Air Force Rafales will perform a fly-past on the occasion.
This year also marks the 25th anniversary of Indo-French strategic partnership. Together the two leaders will be holding wide-ranging discussions on taking forward this longstanding and time-tested partnership over the next 25 years.
He also has meetings scheduled with Elisabeth Borne, Prime Minister of France, Gerard Larcher, Presidents of the Senate, and Yael Braun-Pivet, President of the National Assembly.
In the evening he will be accorded a civic reception at La Seine Musicale on the banks of River Seine by the Indian Diaspora.
ADU will keep getting you the complete visit live.