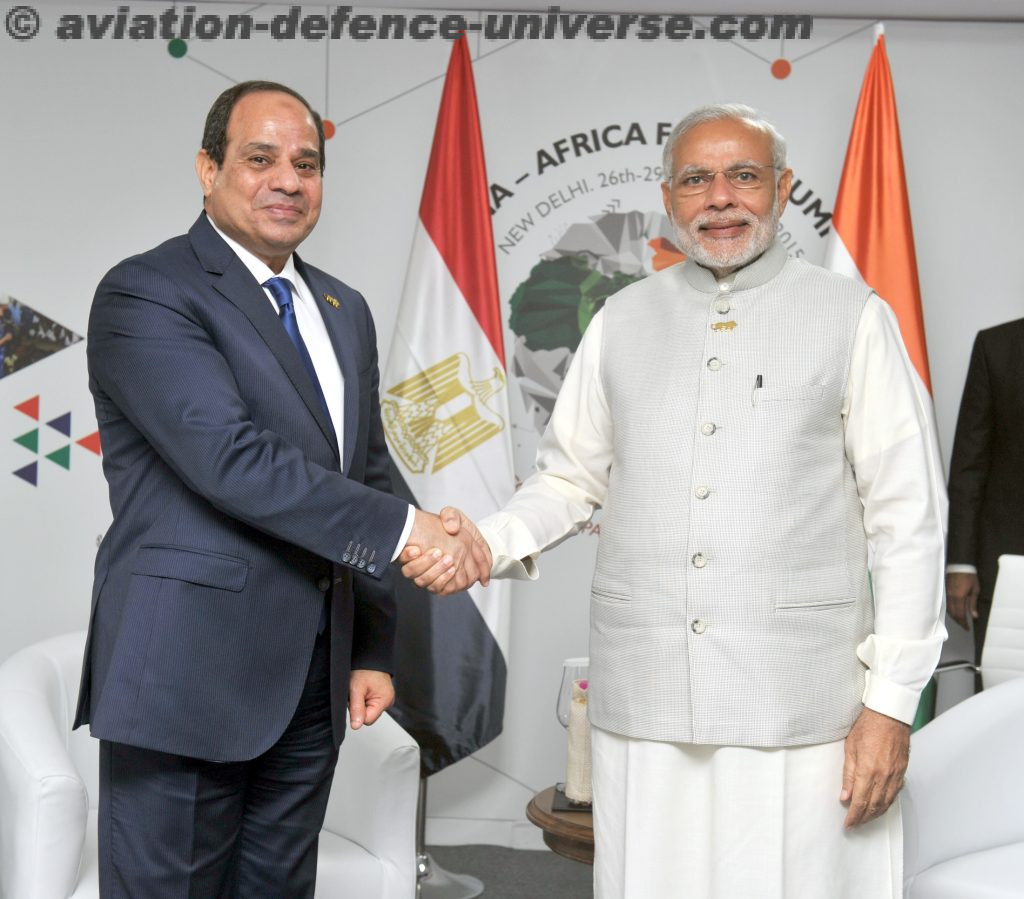 India-Egypt celebrate 75 years of diplomatic ties
New Delhi. 24 January 2023. Amidst the Army columns which will march on Kartavya Path during the Republic Day Parade this year, will be soldiers of the Egyptian Army who will salute not only the Indian President but also their own President with pride. President of the Arab Republic of Egypt, Abdel Fattah El-Sisi, is on a State visit to India from 24-26 January 2023 at the invitation of Prime Minister  Narendra Modi and will also be the Chief Guest on India's 74th Republic Day.
President Sisi will be accorded a ceremonial welcome at the Rashtrapati Bhavan on 25 January 2023 and President Droupadi Murmu will host a State Banquet in honour of the visiting dignitary the same evening. President Sisi will have a bilateral meeting and delegation-level talks with the Prime Minister on bilateral, regional and global issues of mutual interest. External Affairs Minister Dr. S. Jaishankar will call on President Sisi. The visiting dignitary will also interact with Indian Business community at a business event on the same day.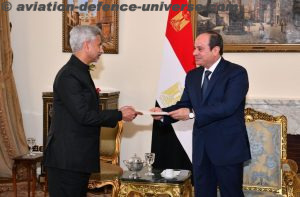 President Sisi will be accompanied by a high-level delegation, including five Ministers and senior officials. ​President Sisi has previously visited India in October 2015 to participate in the 3rd India Africa Forum Summit and in September 2016 on a State Visit. This is for the first time that President of the Arab Republic of Egypt has been invited as Chief Guest on our Republic Day. A military contingent from Egyptian Army will also participate in the Republic Day parade.
India and Egypt are celebrating 75 years of establishment of diplomatic relations this year. Egypt has also been invited as a 'Guest Country' during India's Presidency of G-20 in 2022-23.The forthcoming visit of President Sisi is expected to further strengthen and deepen the time-tested partnership between India and Egypt.
India and Egypt enjoy warm and friendly relations marked by civilizational, cultural and economic linkages and deep-rooted people-to-people ties. The multifaceted relationship is based on shared cultural values, commitment to foster economic growth, collaboration in the fields of defence & security and convergence on regional and global issues. The two countries work closely at multilateral and international platforms. Bilateral trade between India and Egypt achieved a record high of USD 7.26 billion in FY 2021-22. The trade was fairly balanced, with USD 3.74 billion Indian exports to Egypt and USD 3.52 billion imports from Egypt to India. More than 50 Indian companies have invested around USD 3.15 billion in diverse sectors of Egyptian economy, including chemicals, energy, textile, garment, agri-business, retail, etc.
It may be recalled that at the invitation of Sameh Hassan Shoukry, Minister of Foreign Affairs of Egypt, Indian External Affairs Minister Dr. S. Jaishankar, paid an official visit to the Arab Republic of Egypt from 15-16 October 2022. This was his first bilateral visit to Egypt. And just a month prior Defence Minister Rajnath Singh had visited Egypt from 18-21 September 2022 and held meetings with President Sisi as well as the Minister of Defense General Mohammad Zaki and a MOU on Defence Cooperation was signed. From 6th-20th November 2022, MoEFCC Shri Bhupendra Yadav also visited Egypt, leading the Indian delegation for CoP-27.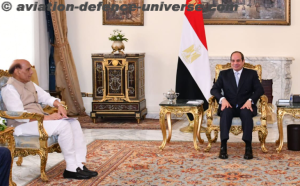 Egypt and India enjoy cordial defence relations. There was close cooperation between the Air Forces, with joint development of a fighter aircraft in 1960s. IAF pilots also trained Egyptian pilots from 1960s until 1984. Since 2015, there have been several high-level exchange of visits by defense delegations including the visit of the Minister of Defense of Egypt, General Sedki Sobhi, in 2017 and the visit of Minister of Defense of India, Smt. Nirmala Sitharaman, in 2018. Since late 2019, there was a lull due to the Covid-19 Pandemic. However, since June 2021, more than 15 defence delegations have visited Egypt, and most significant in 2021 was visit of the Chief of the Air Staff, Air Chief Marshal VR Chaudhari, from 28th November to 2nd December 2021. He attended the Egypt Air Power Symposium and delivered a keynote address on 'Strategic Air Intelligence in confronting new and non-organized threats. Subsequently, he attended the Egyptian Defence Exposition (EDEX). Reciprocally, Air Marshal Mohamed Abbas Helmy, Commander-in-Chief of Egyptian Air Force visited India from 04-07 July 2022. In addition to having discussions with CAS, he also called on COAS, CNS and Defence Secretary to further mutual cooperation. The EAF Chief also visited HAL at Bengaluru, Software Development Institute and Aircraft Systems and Testing Establishment (ASTE).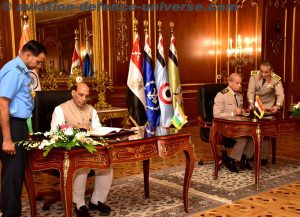 Most of the current defence cooperation is determined by Joint Defence Committee (JDC) activities. JDC meetings have been held alternately in either country, followed by exchange activities. In addition, the following activities also contribute to defence cooperation. Indian offers DSSC and NDC courses on a regular basis, in which Egyptian officers are given training in India and Indian defense officers train in Egypt. Delegations from NDC, War Colleges and CDM also undertake study tours on a regular basis to Egypt. A study tour from NDC visited Cairo in October 2021. Presently, two Army officers are undergoing NDC and General Staff Course being conducted at Cairo from July 2022 to Jun 2023.
Egypt participated in the Multinational Training Exercise for friendly African countries held at Pune in March 2019. The first ever IAF-EAF Joint Tactical Air Exercise, Dessert Warrior, was held in Egypt from 29-31 October 2021. Two officers from Egyptian Navy participated in Multilateral Indian Naval Exercise MILAN-2022 held from 25 Feb-04 Mar 2022. For the first time, Indian Air Force participated in Tactical Leadership Programme of Egyptian Air Force Weapons School from 23 Jun – 22 July 2022. Cyclone Exercise between two countries is being held 14-27 Jan 2023 in India.
Indian Navy Ships undertake port calls at Egyptian ports. INS TABAR (a Talwar class guided missile frigate) made a port call in Alexandria port in late-June 2021 and again in September 2021 during its return journey to India. Ships of First Training Squadron of Indian Navy (IN Ships Tir, Sujata and CGS Sarathi) called on the Red Sea Naval port of Safaga, Egypt in May 2022 as part of their five nation Overseas Deployment. Further, INS Tarangini called on at Alexandria Naval base in May 2022 and INS Kochi visited Port Safaga in late-Jun 2022 with Flag Officer Commanding Western Fleet onboard. In July 2022, INS Tarkash made a port call at Alexandria. INS Tarangini executed a port call at Port Said in the month of Oct 2022 during its return journey to India. INS SUMITRA executed a port call at Safaga on 31 Dec 2022- 3 Jan 2023.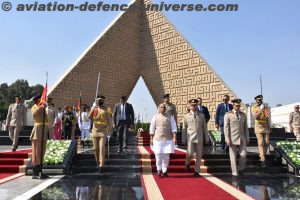 Egypt regularly provides transit facilities to IAF and IN aircraft ferrying to/ from Russia, Europe and the USA. During crisis of Covid-19 in Apr/May 2022, Egyptian authorities provided exceptional support and facilitated transit of Indian Air Force aircraft even at short notice. Indian DPSUs as well as some private firms participated in the first Tri Services Defence Exhibition (EDEX-2018) organized by Egyptian Armed Forces in Cairo in December 2018. Subsequently, high-level delegations from Egypt have attended Aero India 2019 at Bangalore in February 2019 and DEFEXPO INDIA 2020 in Lucknow in February 2020. 2nd edition of Egyptian Defence Exhibition EDEX-2021 was held at Cairo in November/December 2021. 10 Indian companies and institutions, including DRDO and Defence PSUs such as HAL, BDL, BEML and Munitions India Ltd. participated in EDEX and showcased their state-of-art products. DEFEXPO-2022 was organised in Gujarat in from 18-22 October 2022 and Egyptian delegation was led by Air Vice Marshal rank officer from Egyptian Air Force.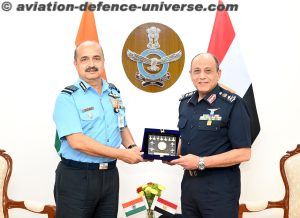 Space cooperation is an emerging vertical of cooperation between India and Egypt. Joint Working Group meetings and discussions between ISRO and NARSS (National Authority for Remote Sensing and Space Sciences) have been held, since an MoU was signed in 2008. With Egypt having establish EgSA (Egyptian Space Agency) in 2019, both sides have agreed on drafting a new MoU to include EgSA and cover other developments in the sector and is in process. Egypt signed the ISA framework agreement as a founding member in March 2018 and ratified it in January 2019. The revised Framework Agreement is being processed for ratification by Egypt. Egypt has also supported ISA being granted Observer Status in UNGA in mid-October 2021. The compassion and bond between the defense establishments of India and Egypt was also evident when the military leadership responded immediately to the tragic demise of CDS, Gen Bipin Rawat.