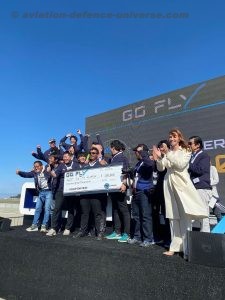 HARTFORD, Conn. 02 March 2020 . Pratt & Whitney presented The Disruptor Award to teTra Aviation, a team from Tokyo, Japan, at the GoFly Prize Final Fly Off competition on Saturday, Feb. 29, 2020 at Moffett Federal Airfield at NASA Ames Research Center in Mountain View, Calif. Pratt & Whitney was an overall corporate sponsor of the GoFly Prize and also provided The Disruptor Award, a $100,000 prize that recognized the team that was truly innovative, who went beyond in developing their personal flying device.
"Throughout the two years that we worked with the teams in the GoFly competition, we were impressed with the passion and commitment they had to innovate personal flight. This truly aligns with Pratt & Whitney's 95 year history of transforming the future of aviation," said Geoff Hunt, senior vice president of Engineering. "Our judging panel was impressed with the grit, determination, and creativity of these innovators from across the globe who are pushing the boundaries of what is possible. Although the choice was difficult, one stood out: teTra Aviation demonstrated the spirit of innovation, disruption and perseverance to see their demonstration vehicle through the challenges of developing a revolutionary new air vehicle. In all, the event was a testament to forward-thinking and embracing innovation to power the future of aerospace and I applaud all the teams for their efforts."
Launched in September 2017, The GoFly Prize is a two-year competition where teams leveraged recent advances in propulsion, energy, light-weight materials, and control and stability systems to make the dream of personal flight a reality. Teams built personal flying devices that can be used by anyone, anywhere.
Participating in this project provides Pratt & Whitney the opportunity to support the next generation of aviation leaders. As a sponsor, the company has provided mentors and lecturers to help teams around the world develop the future of flight. With curiosity as a major component in the development of next generation of engines, working with inventors from all walks of life on a project that has the potential to make a huge impact on the advancement of personal travel was a perfect fit.