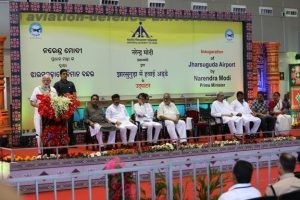 Jharsuguda. 23 September 2018. The Prime Minister Narendra Modi  inaugurated a new airport in Jharsuguda – also known as the powerhouse of Odisha. Governor of Odisha, Prof. Ganeshi Lal, Chief Minister of the State, Naveen Patnaik, Union Minister of Commerce and Industry and Civil Aviation, Suresh Prabhu, Union Minister of Petroleum & Natural Gas and Skill Development & Entrepreneurship, Dharmendra Pradhan, Union Minister of Tribal Affairs, JualOram were among those present on the occasion. The Prime Minister also flagged off the UDAN flight on Jharsuguda-Raipur sector.
Jharsuguda is the second airport of Odisha after Bhubaneswar to become operational and the first one to provide necessary connectivity to Bhubaneswar, Raipur and Ranchi under RCS UDAN. In Odisha, other than Jharsuguda, three more airports, namely, Jeypore in Koraput District, Rourkela in Sundargarh District and Utkela in Kalahandi District are being developed to provide connectivity to remote and far flung areas of the coastal state. For revival and upgradation of these four airports within the state of Odisha, Rs. 370 Crores has been allocated under the Regional Connectivity Scheme.
Jharsuguda Airport has been developed by the Airports Authority of India, in collaboration with Govt. of Odisha at an estimated cost of Rs.210 Crores with a contribution of Rs. 75 Crores from the State Govt.Spread across over 1027.5 acres of land, the area of terminal Building of the airport is 4000 sqm. The Airport has been developed for all weather operations including night operations for A-320 type of aircraft.
The Terminal Building of Jharsuguda Airport, is a RCC composite structure equipped with state-of-the-art passenger facilities. The interiors of the building depict local handicrafts, artwork and tourist destinations of the state highlighting rich ethos and culture of the region. The city side is being aesthetically landscaped with lush green areas connecting passengers to the nature.
With a 2390 metre-long runway, the airport will be able to park A-320 type aircraft. The Terminal Building has five check-in counters and one arrival carousel with peak hour handling capacity of 300 passengers. Apart from the New Terminal Building, the airport infrastructure also includes Isolation Bay, New Technical Block-cum-Control Tower, Fire Station Category-VII, MT Workshop and essential Navigational & Visual Aids.
An efficient sewage treatment plant, reuse of treated water for horticulture and air-conditioning purposes, rain-water harvesting system to recharge groundwater, sewage treatment plant, solar power system, energy-efficient chillers and a green belt along the approach road of the airport are few other green features of the airport development project.
The new airport at Jharsuguda will play a significant role in the development of Western Odisha and will give impetus to the growing tourism industry in the region.
UDAN (UdeDesh Ka AamNaagrik) is a flagship scheme of the Government of India introduced to enable air operations on unserved routes, connecting regional areas, to promote balanced regional growth and to make flying affordable for masses.