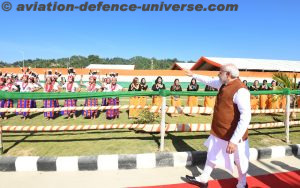 7 airports have been built in the North-East in the last eight years
Itanagar, Arunachal Pradesh. 19 November 2022. The Prime Minister Narendra Modi inaugurated Donyi Polo Airport, Itanagar. The foundation stone for this airport was laid by the Prime Minister himself in February 2019.
The airport, which is the first greenfield airport in Arunachal Pradesh, has been developed in an area of over 690 acres, at a cost of more than Rs. 640 crores. With a 2300 m runway, the airport is suitable for all weather day operations. The airport terminal is a modern building, which promotes energy efficiency, renewable energy and the recycling of resources.
The development of a new Airport in Itanagar will not only improve connectivity in the region but will also act as a catalyst for the growth of trade and tourism, thus providing a boost to the economic development of the region. Airports in five northeastern states, namely, Mizoram, Meghalaya, Sikkim, Arunachal Pradesh and Nagaland have seen flights take off for the first time in 75 years. Aircraft movement in the North-East has also witnessed an increase of 113% since 2014, from 852 per week in 2014 to 1817 per week in 2022.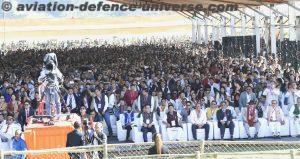 It is a new chapter in the book of life of the people of Arunachal Pradesh.  Donyi Polo Airport will be the fourth operational airport for Arunachal Pradesh, taking the total airport count in the North-East region to 16. From 1947 to 2014, only 9 airports were built in the North-East. In a short span of the last eight years, 7 airports have been built in the North-East. This rapid development of airports in the region reflects the special emphasis of the Prime Minister on enhancing connectivity in the Northeast. He informed that the number of flights connecting Northeast India has doubled. "The Donyi Polo Airport is becoming a witness to the history and culture of Arunachal Pradesh", Modi remarked. Throwing light on the naming of the airport, the Prime Minister explained that 'Donyi' means the Sun while 'Polo' means the moon. Drawing an analogy to the light of the sun and the moon with the development of the state, the Prime Minister said that the development of the airport is as important as the development of the poor.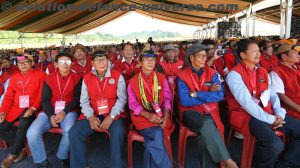 "Today, as much importance is given to the big infrastructure like the airport, the same importance is given to the service of the poor and their dreams. If an airport is built today, work is also done on the flight plan to see how the common man gets its benefit. After the start of flight service, we work for how the number of tourists increases, how small traders, shopkeepers, taxi drivers get benefited from it," he added.
Chief Minister of Arunachal Pradesh, Pema Kandu, Governor of Arunachal Pradesh,  B D Mishra, and Union Minister Kiren Rijiju were those present on the occasion among others.