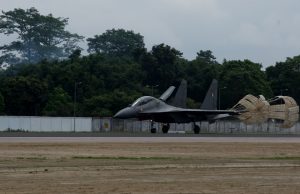 New Delhi 31 May 2017. Sqn Ldr D Pankaj and Flt Lt S Achudev, the pilots of the Su-30 aircraft sustained fatal injuries when the aircraft crashed approximately 60 Km from Tezpur Airbase on 23 May 17.
Analysis of the Flight Data Recorder of the aircraft and certain other articles recovered from the crash site revealed that the pilots could not initiate ejection before the crash. The wreckage of the aircraft was earlier located on 26 May 17 after continuous search operation in the area.
The Su-30 aircraft took off around 1030 h on 23 May 17 and had gone off the radar and lost radio contact around 1110 h when aircraft was around 60 Kms from Tezpur. The aircraft was on a routine training mission as part of a two aircraft formation.
The aircraft was declared overdue and Search and Rescue operations were launched to locate the aircraft and the pilots. Help from civil administration and military authorities was also sought to locate the aircraft. Aerial search was commenced based on the last known position of the Su-30 MKI. Incessant rain, dense clouds and difficult terrain hampered the search operations in air and on the ground.
A court of Inquiry has already been ordered to investigate the cause of the accident.