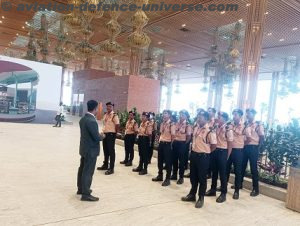 Bangalore. 21 March 2023. Peregrine Guarding, one of the largest private security companies in India and Singapore has been made the L1 provider for providing their guarding services to the newly inaugurated Terminal 2 of the Bangalore Airport.
The Tenon Group is among the first few companies to hold the Bureau of Civil Aviation Security (BACS) License, which enables companies to station security officers at airports. As part of this project, 50+ security officers and security guards are being deployed at the airport. Peregrine is one of the early adopters of technological innovation in the private security sector. The guards are well trained and equipped, following the airport protocols.
 After an extensive training and documentation process, Tenon Group is among the first few businesses to get an official offer for the deployment of security guards at Bangalore Airport's recently opened Terminal 2.The Peregrine security officers were subjected to a vigorous selection process. After the written and viva rounds, 125 guards were chosen for training, and then 50+ guards were shortlisted for the actual deployment.
The guards were additionally required to complete Aviation Security (AVSec) training, which offers an official certification for airport security operations. In addition, the guards underwent first aid instruction, uniform instruction, and physical training, all of which are qualifications for employment as an airport security guard, among other positions.
On this, Mr. Rakesh Tripathie, Managing Director, Peregrine (South) said, "We at Peregrine Guarding are honoured to be affiliated with such a prestigious client as Bangalore Airport; it is an opportunity for our company to uphold the highest standards of security and operational procedures at the airport. We provide our staff with the resources they need to be prepared for every scenario that could happen at work. We have built a strong corporate internal training ecosystem to accomplish the set training objectives."
The Peregrine Guarding has been associated with many such major clients and has been a reputable organization in the industry and has maintained a high standard of security. The company employed a significant number of skilled trainers throughout India. These trainers are highly skilled and hold a number of security-related certifications.