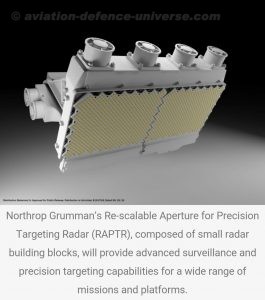 Baltimore. 10 August 2019. Northrop Grumman has been nominated by US Army to develop the next-generation scalable radar antenna, the Re-scalable Aperture for Precision Targeting Radar (RAPTR) will feature small radar building blocks that will allow the tactical antenna to be scaled to suit a wide range of mission, operation and platform requirements.
"RAPTR's building block architecture allows us to scale the antenna up or down to suit a wide range of platforms and missions, so it is well suited to the demands of today's multi-domain battlespace," asserted Brent Toland, Vice-President of Land and Avionics C4ISR Division at Northrop Grumman.
The new RAPTR will enhance the capabilities of the current operational US Army's tactical radar family, it will foster the situational awareness to fighter aircraft, the radar can operate several modes including SAR mode (Synthetic Aperture Radar) and Ground Moving Target Indicator which will deliver an extensive operating view.