Decaying relations with Afghanistan might get better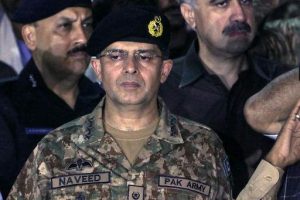 By JK Verma.
New Delhi.On December 11, newly appointed Kashmir proficient Pakistani Army Chief General Qamar Javed Bajwa, abruptly removed Lt. General Rizwan Akhtar and appointed Lt.General Naveed Mukhtar as Director General of military controlled Inter Services Intelligence (ISI). Lt. General Mukhtar is an old hand of ISI and remained chief of counter-terrorism wing of the sinister ISI.
Lt. General Rizwan Akhtar who became ISI Chief in November 2014 on an original tenure of 3 years was removed because he was close to General Raheel Sharif and both Nawaz and his brother Punjab Chief Minister Shahbaz Sharif wanted to oust him from the important post of ISI Chief.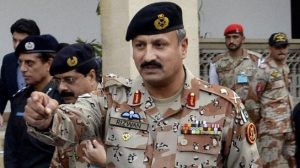 ISI which runs several covert terrorist operations in India especially in Kashmir could not forewarn Pakistani security agencies about the surgical strike conducted by Indian army on September 29 in which approximately 200 Indian army personnel participated and killed about 10 Pakistani army officials and more than 40 terrorists and their guides were exterminated. Although Pakistani army denied that Indian army entered Pakistani territory but civilian government accepted it and it was a big blow to the reputation of army. Pakistani army in view of inflexible gesticulation from India could not take revenge of the surgical strike which further damaged its image.
Nawaz wanted to nominate Mukhtar as ISI Chief before but Raheel Sharif refused to accept him as ISI Chief and selected Rizwan Akhtar. Mukhtar's father is a retired Brigadier and is a business partner of a close relative of Nawaz Sharif; hence he is more comfortable with Mukhtar.
The defence experts mention that in past Mukhtar worked as head of counter-terrorism unit of ISI and possess firsthand knowledge of Afghanistan and of diverse terrorist groups including Hikmatyar group which is responsible for various terrorist activities in Afghanistan on behest of ISI. In this way the present army chief dealt Kashmir while ISI chief has direct understanding of Afghanistan therefore Nawaz government with close cooperation of army can handle both its eastern as well as western neighbors, which are quite hostile at present.
Nawaz Sharif who is a businessman turned politician promised before the elections about economic development of the country, truce with terrorist organisations and cordial relations with India. However Raheel Sharif had a diabolical hatred towards India, as his real brother and uncle were killed during India Pakistan wars.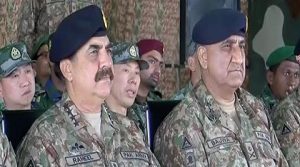 Raheel Sharif had weakened the civilian government and snatched decision making powers with regard to India, Afghanistan, United States, Saudi Arabia etc. Not only this Nawaz government wanted to negotiate with the terrorist outfits but army launched operation Zarb-e-Azb under which terrorists outfits which were not toeing the line of ISI were assailed while terrorist groups which were carrying out terrorist activities in India and Afghanistan were protected. Besides this army also weakened Nawaz through the Azadi March (Freedom March) led by Imran Khan of Tehreek-e-Insaf Party and Islamic cleric Muhammad Tahir-ul-Qadri. Association of the names of family members of Nawaz in Panama leaked papers also sullied the image of the prime minister.
Ashraf Ghani after becoming President of Afghanistan wanted to inculcate cordial relations with Pakistan. In fact at that time he even ignored India and went to Pakistan but Raheel Sharif who was novice in the diplomatic practices forced the visiting president to visit defence headquarters. Ghani even tolerated this insult and met Raheel in Army Headquarters. But in the meeting Pakistani army which sponsors terrorism in Afghanistan declared that the terrorist outfits were not under its control and Pakistan will not able to stop terrorism in Afghanistan, nonetheless ISI continued abetting  terrorist outfits with the disingenuous intention of weakening the Ghani government.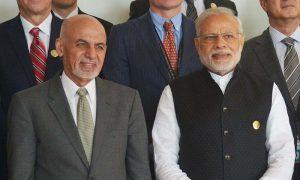 Ghani became disillusioned from Pakistan and realised that although both are Islamic countries but Pakistan would not stop its assistance to various terrorist outfits as ISI wants to control Afghanistan. Hence Ghani's attitude towards India was also changed and his two days visit in September was very positive for both the countries and they signed three important agreements including extradition treaty.
In September visit, Ghani criticized terrorism, although he avoided taking the name of Pakistan or terrorist organizations operating from Pakistan but the frustration of Afghan president escalated up to such an extent that in "Heart of Asia Summit" in Amritsar in early December, he took the name of Pakistan for abetting terrorism. He openly declared that there are 30 terrorist outfits which are creating terror in his country and these outfits have bases in Pakistan. He also quoted a terrorist leader who openly claimed that without the assistance of Pakistan they cannot sustain even for a month.
He also refused to accept USD 500 million offered by Pakistan by saying that "This fund, Mr. Aziz (Sartaj Aziz is the Adviser to the Prime Minister of Pakistan on Foreign Affairs and was present in the Summit) could very well be used for containing extremism, because without peace any amount of assistance will not meet the needs of our people".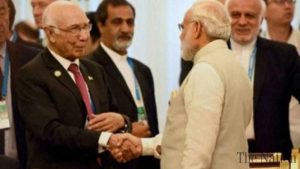 The relations between India and Pakistan are also at its lowest ebb. ISI is continuously fomenting trouble in India especially in Jammu & Kashmir. The negotiations between both the countries are suspended and leaders are issuing venomous statements against each other. ISI is continuously infiltrating terrorists in J&K. India which is a staunch critic of terrorism successfully isolated Pakistan in the world arena and in recently held "Heart of Asia Summit " not only Pakistan's name was taken but names of terrorist outfits which are operating from Pakistan were also included.
The analysts point out that the current ISI chief's strategy would be to mitigate the influence of India in Afghanistan. Pakistan government would inculcate cordial relations with Afghanistan but would not allow India to enhance its clout in Afghanistan.
The Pakistan watchers claim that Nawaz Sharif who was incapacitated by Raheel Sharif in most of the important matters had selected Army Chief as well as Director General ISI, two most powerful persons of his choice and now he will try to normalize relations with all its neighbours especially India and Afghanistan and will also try to improve the image of Pakistan in world arena.
The economic condition of Pakistan is in jeopardy and Nawaz can improve it by inculcating cordial relations with India and Afghanistan. Pakistan watchers also assert that General Bajwa would allow Nawaz to improve relations with India.
(Jai Kumar Verma is a Delhi-based former diplomat and strategic analyst. He was posted in Pakistan. The views in the article are solely the author's. He can be contacted at editor.adu@gmail.com.)