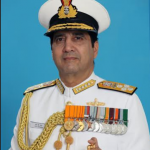 New Delhi . 07 Mar 2016. India and United Kingdom have several commonalities, which serve as the foundation for closer cooperation and multi-faceted interactions. Both countries are vibrant, secular and multi-cultural democracies.
The Indian Navy (IN) has had traditional links with the Royal Navy (RN) which have come a long way since institutionalization of various defence fora for enhancing bilateral relationship between the two countries. With constitution of the Indo-UK Defence Consultative Group (DCG) and the Military Sub Group (MSG) in 1995, a two-tier system of cooperation was established to progress various areas of defence cooperation. In Sep 04, the two countries inked a pact to embark upon a strategic partnership in which defence cooperation figure prominently. Establishment of Navy-to-Navy Staff Talks' forum, officially referred to as Executive Steering Group (ESG) is the main mechanism of enhancing cooperation between the two navies.
Indian Navy and Royal Navy are partners in the Indian Ocean Naval Symposium (IONS); a Maritime Cooperation construct conceptualised and pioneered by the Indian Navy in 2008. Conduct of the Exercise 'KONKAN 15' from 05 Sep to 11 Sep 15 at Plymouth off the UK coast was the continuation of a long standing series of exercise between the two navies. The two navies also interact on a host of issues like training, doctrinal concepts, Maritime Domain Awareness(MDA) etc.
Admiral RK Dhowan, the Chief of the Naval Staff, Indian Navy to UK from 7 to 10 Mar 16 will consolidate on existing Maritime Cooperation initiative as well as explore new avenue. The Admiral's visit to UK also aims to take forward the vision statements was set forth during the visit of  PM to UK in Nov 2015.
During the visit, Admiral RK Dhowan is scheduled to hold discussions with the Secretary of State for Defence, First Sea Lord, Chief of Defence Staff, and the other Senior Officers of the Royal Navy.