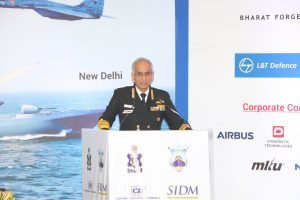 New Delhi. 12 December 2019. The fourth edition of International Seminar cum Exhibition on Naval Weapon Systems 'NAVARMS – 2019' with the theme 'Make in India – Fight Category: Opportunities and Imperatives' was inaugurated by Admiral Karambir Singh, Chief of the Naval Staff.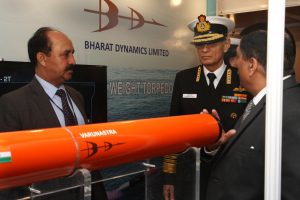 The welcome address for NAVARMS 2019 was delivered by RAdm Sanjay Misra, Director General of Naval Armament Inspection. He brought out that this is the only International Seminar and Exhibition on naval weapon systems conducted in the country and is presently in its fourth edition. He stated that the seminar over the next two days will lay emphasis on the ways and means for boosting indigenisation of Naval Weapon Systems. He was hopeful of inherent competence of domestic industry and capability being leveraged in expediting indigenous weapon on indigenous platform.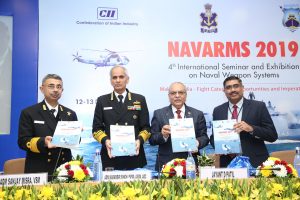 Jayant D Patil, President SIDM in his address acknowledged the Indian Navy's genuine and pioneering contribution in the field of indigenisation and also, the dramatic changes in this arena over the last six years. NAVARMS 2019 as per him was excellent opportunity towards meeting this goal of promoting indigenous weapons systems and that collaborative principles are deliverables from the seminar.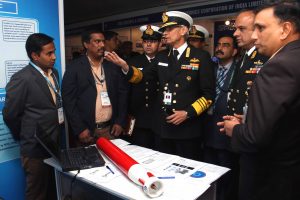 Admiral Karambir Singh, Chief of Naval Staff in his inaugural address brought out that there was enough headroom in the defence sector that should be harnessed if India was to grow into a developed economy. He stated that weapon system being a complex mix of subsystems with a large array of technologies that go into each one; ranging from metallurgy to composites, propellants and rocket technologies to microwaves, allows diverse industry elements in a single weapon project. He exhorted the Industry to tap into the wide Naval eco-system starting from production to repair, maintenance and upgradation.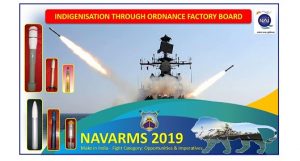 The CNS emphasised that rapid advancement of weapon technology is a key challenge which requires cutting edge R&D and speedy production as are issues related to Quality, Quantity and Cost. With armed forces firmly set on the path of rapid modernisation and indigenisation, the conditions are right to take us to the next level on Indigenous Defence – Industrial Base evolution chain.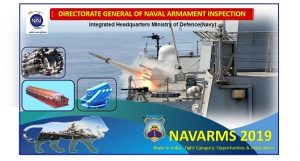 Sujith Haridas, Director General, Society of Indian Defence Manufacturers (SIDM) in his concluding remarks & Vote of Thanks stated that CII and SIDM have worked very closely with the Navy towards ensuring NAVARMS 2019 meets the expectations of all the stakeholders.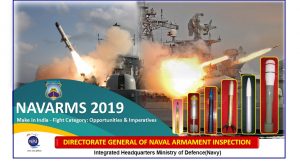 He recognised that the seminar comes at a crucial point where the defence procurement frameworks, structures and procedures are undergoing change and expressed his confidence that the ongoing change and subsequent result will further strengthen the 'Make in India' initiative.
The NAVARMS – 2019 Exhibition on defence technology was inaugurated by the CNS. The Exhibition comprised of exhibits from Ordnance Factory, DPSUs, private industries (both domestic and international) and Indian Navy showcasing cutting edge and niche defence technologies.