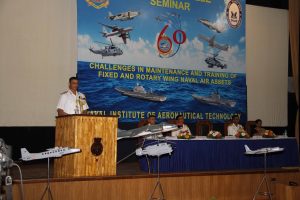 Kochi. 17 June 2016. The Naval Institute of Aeronautical Technology (NIAT), the premier Aviation technical training establishment of the Indian Navy celebrated 60th anniversary on 17 Jun 16. Having been set up as the Naval Air Technical School (NATS) in the wake of the induction of the amphibious Sea Land aircraft in 1956, has grown and evolved over the years and can be counted today among the premier training establishments of the country.
The growth of the Institute has been rapid especially over the last decade. The institute isrecognised as a 'Centre for Aeronautical Science and Technology' by CochinUniversity' with the offering of a host of academic qualifications for coursesconducted at the institute such as MTech, BSc, and Diploma in Aeronautics etc.
An International Seminar on "Challenges in Maintenance and Training of Fixed and Rotary wing Naval Air Assets" along with Industry Exposition (Aero-Expo)showcasing emerging technologies in field of Aviation and Marine was conducted which was inaugurated by the chief guest, Vice Admiral A R Karve AVSM, FlagOfficer Commanding-in-Chief, Southern Naval Command. A special day cover was also released jointly by Vice Admiral A R Karve and Smt. Sumathi Ravichandran, Post Master General, Kochi for commemorating the occasion.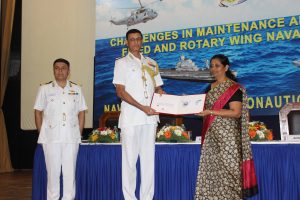 The aim of conducting Expo was to provide opportunity to the Indian Defence Industry to showcase their core technology and indigenization capabilities in line with the 'Make in India' drive. Eight leading aviation and marine industries of the country viz M/s Elcom-Group, M/s Mark Control, M/sVerdant Telemetry, M/s HBL Power systems , M/s Tata Advance Power systems Ltd.,M/s Merlin Hawk Aerospace Pvt Ltd, M/s Radiant Corporation pvt. Ltd  and Goa Aeromarine & Engg. Services Pvt.Ltd had put up stalls showcasing their core expertise and indigenization capability.
The seminar was attended by many seniorofficers of Indian Navy and industry representatives. A large number of eminentspeakers / academicians from Indian Navy, DRDO, HAL, CEMILAC, DGCA, andindustry giants like M/S Boeing Ltd, M/S Rolls-Royce ltd. participated andpresented their views in form of  papers.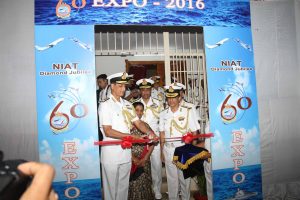 The event was also graced by former Directors, officers and sailors of the institute.Additionally, the Institute lso conducted community service at Old age home' under Ministry of Labour and Social Justice at Thevera and a 'Painting Competition' for the children ofSouthern Naval Command, cycling expedition to Andhakaranzhi Beach where cleanliness drive was undertaken as a part of 'Swatch Bharat Abhiyan' during the run up to the diamond jubilee celebrations.