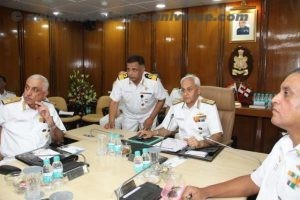 New Delhi. 12 May 2018. The first Biannual Naval Commander's Conference of 2018 concluded after four productive days of intense deliberations on a wide range of issues.
 The Conference was inaugurated by
the Defence Minister Nirmala Sitharaman
, who set the tone for the deliberations stating that the Indian Navy is a force to reckon with in the Indo-Pacific region. She also assured the Naval Commanders that endeavours to bridge critical capability gaps in Ship-borne helicopters, Fleet Support Ships and Submarines would be progressed by the Government. The Minister also extended support to the long-term capability acquisition plans of the Navy that have been formulated with a strategic view of the Indo-Pacific region.
The imperative need for approval of the second indigenous aircraft carrier for the Navy was also deliberated upon. This project along with the other shipbuilding projects already underway or in the pipeline including Mine Counter Measure Vessels (MCMVs), Landing Platform Dock (LPD), Anti-Submarine Shallow Water Craft, Diving Support Vessels and Survey Vessels are expected to provide a major thrust to the 'Make-in-India' initiative of the Government.
Major shipbuilding projects in Indian Shipyards, both Private and Public result in the creation of jobs at these Shipyards as well as encouragement to MSMEs to develop indigenous technologies and manufacturing units in support of these major shipbuilding projects. The fifteen-year 'naval Indigenisation Plan' promulgated in 2015 by the Navy has set the tone for the Indian Industry to create infrastructure, skilling and jobs.
The Conference also undertook a review of the Navy's Mission Based Deployments. The review was aimed at maximising benefits accrued from the deployment of IN ships and aircraft to critical areas within the IOR. Measures such as information sharing with other navies as well as combining Defence Diplomacy initiatives such as Bi-lateral exercises and port visits into these deployments are planned to be undertaken.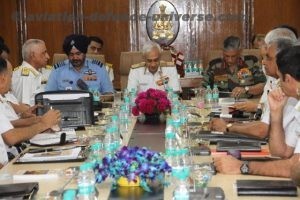 The Navy's new Transition Cycle for ships from maintenance to operations was also reviewed by the Commanders. This has resulted in considerable improvement in combat efficiency and crew proficiency of ships undergoing the new Transition Cycle. The new Transition Cycle has also resulted in the overall improvement of Op Logistics, spares management and forecasting, Refit planning and expenditure management.
The Naval Commander's Conference also saw the inauguration of a new Digital Library available pan-Navy for knowledge management and retrieval including archiving of critical data and information. This was complemented by deliberations on the security and hardening of naval data networks in keeping with contemporary cyber security practices. In keeping with the Navy's ethos of harnessing niche technologies, concrete plans to incorporate Big Data Analytics and Artificial Intelligence into the Navy's operational functioning have also been formulated.