· 22nd National Level Meeting between the two neighbours held
By Sangeeta Saxena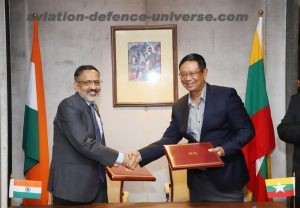 New Delhi. 30 October 2018. Amidst the hovering presence of two not-so-friendly neighbours China and Pakistan one important fact which misses most eyes is the relationship India shares with erstwhile Burma, today's Myanmar. The key question is why good ties with Myanmar are important for India?
Not only does India share a long land border of over 1600 Km with Myanmar and a maritime boundary in the Bay of Bengal, Myanmar is the most important ally in India's fight against insurgency in it's northeast. First Prime Minister Narendra Modi's high profile visit followed by Gen Bipin Rawat Indian Army Chief's visit reiterate the importance of Myanmar to India as a crucial partner which needs to be wooed well to the insurgency in it's north-east in check, as a strategic gateway to South-East Asia and an important neighbour to keep Modi's Look and Act East Policy for South and South-East Asian regional cooperation.
But the most important factor is also keeping Burma within India's happy arms so that China which has always been trying to woo Myanmar because of its strategic location vis-à-vis India, doesn't succeed in pulling the small but important nation towards its side. A jolt India can ill afford in the present geopolitical situation in the region.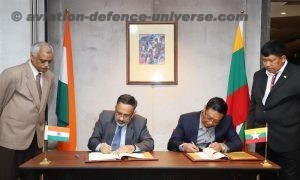 The 22nd National Level Meeting between India and Myanmar was held recently. The Indian delegation led by Rajiv Gauba, Secretary, Ministry of Home Affairs, Government of India and the Myanmar delegation by Major General Aung Thu, Deputy Minister, Ministry of Home Affairs, Government of the Republic of the Union of Myanmar, brainstormed bilateral ties by strengthening border management and anti-insurgency drive.
During the meeting both sides agreed to take action against insurgent groups operating within their territories. The two countries agreed on providing of security cooperation along with international border and facilitating movement of people and trade across the international border.
Both sides agreed to cooperate in preventing smuggling of wildlife and narcotic drugs. India and Myanmar agreed to strengthen cooperation on international border management including construction of subsidiary pillars to better demarcate the border.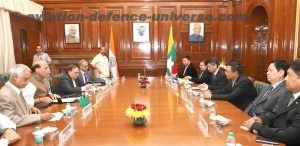 It may be recalled that India condemned had strongly condemned terrorist attacks in Burmese northern Rakhine State, wherein several members of the Myanmar security forces lost their lives. Both the nations agreed that terrorism violates human rights and there should, therefore, be no glorification of terrorists as martyrs.
Myanmar also agreed that the sovereignty and territorial integrity of India was important and upheld the policy of not allowing any insurgent group to utilise Myanmar's soil to undertake hostile acts against the Indian Government. Myanmar also appreciated Government of India for upholding the same principle.
Insurgent groups of the north-east have used Myanmar as a base for their hit-and-run operations against India. Indian and Myanmarese militaries have jointly undertaken operations to flush out militants. China has been pushing for a special economic zone at Kyauk Pyu in Myanmar of more than 4,200 acres (17 sq. km), includes the $7.3 billion deep sea port and a $2.3 billion industrial park.
India is building the Kaladan project, a road-river-port cargo transport project, which aims to link Kolkata to Sittwe in Myanmar and then from Myanmar's Kaladan river to India's north-east and the project will finish by 2020. India has also extended $2 billion in soft loans and this is to counterbalance China's influence on Myanmar.
Building on its civilizational relationship, since the 1990s India adopted a policy of working on improved Government-to-Government relations. The landslide victory by Aung San Suu Kyi-led National League for Democracy (NLD) in November 2015 general elections and the formation of NLD government has provided opportunities to strengthen the engagement building on their previous efforts. Various institutional mechanisms have infused dynamism to the bilateral ties.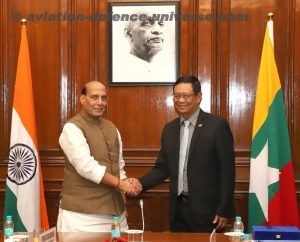 The first meeting of the India-Myanmar Joint Consultative Commission (JCC) cochairedby EAM and Myanmar FM U Wunna Maung Lwin was held (July 16, 2015, N. Delhi). Development cooperation,security, trade & commerce, consular,defence and cultural matters were among issues discussed.Secretary-level meetings include Foreign Office Consultations at the level of Foreign Secretary/Dy Foreign Minister. The 16 thForeign Office Consultations were held (May 25, 2017) between Foreign Secretary Dr. S. Jaishankar and Myanmar MOS for Foreign Affairs U Kyaw Tinwhen issues pertaining toboundary, security & border management, connectivity, trade & investment, Indian Line of Credit, among other issues were reviewed.
The 21st National Level Meeting (NLM) at Home Secretary/ Dy. Home Minister-level was held on 5-6 July 2017, Nay Pyi Taw. Joint Secretary-level meetings include Sectoral Level Meetings (SLM) led by MHA (22nd SLM;19-20 Dec 2016, Mandalay) and Regional Border Committee Meetings (RBCs) (10th RBC;9-11 May 2017Kalay). The first Joint Boundary Working Group led by Joint Secretary, MEA met on January 6-7, 2016 in Nay Pyi Taw. Commercial issues are discussed in Joint Trade Committee (JTC) held at Commerce Minister-level (on 27 June 2017, N.Delhi). JWG on Border Trade and Border Haats, Railways and Shipping are held to discuss connectivity related issue.
Defence & Security Cooperation has strengthened over the years between the two neighbours. Exchange of high-level visits, signing of MoU on Border Cooperation, training, Army, Air Force and Naval Staff Talks are important indicators in this direction. CNS Admiral Sunil Lanba (1-4 Nov 2016) and COAS Gen. Bipin Rawat (27-31 May 2017)visited Myanmar and held wide-ranging discussions on enhancing the scope and depth of defence relations.In July 2017, Sr Gen Min Aung Hliang, C-in-C Myanmar Defense Services visited India, in what was his second visit in as many years, giving an opportunity to further cement defence ties. Myanmar side has provided assurances at the highest levels that it will cooperate with India in taking necessary action in preventing the use of Myanmar territory for anti-India activity.
The Government of India is actively involved in over a dozen projects in Myanmar, both in infrastructural and non-infrastructural areas. These include upgradation and resurfacing of the 160 km. long Tamu-Kalewa-Kalemyo road; construction and upgradation of the Rhi-Tiddim
External Affairs Minister Sushma Swaraj's also visited Myanmar to attend the annual meetings of the Association of Southeast Asian Nations has helped expose the NDA government to the challenges and opportunities in India's east.
Road in Myanmar; the Kaladan Multimodal Transport Project; etc. An ADSL project for high speed data link in 32 Myanmar cities has been completed by TCIL. ONGC Videsh Ltd. (OVL), GAIL and ESSAR are participants in the energy sector in Myanmar. M/s RITES is involved in development of the rail transportation system and in supply of railway coaches, locos and parts. In September 2008, Ministry of Electric Power-1 (MoEP-1) and NHPC signed an agreement for development of the Tamanthi and Shwezaye Hydro-Electric Power project in Chindwin River valley and NHPC submitted the updated DPR on Tamanthi and is working on the DPR on the Shwezaye project. A heavy turbo-truck assembly plant set up in Myanmar by TATA Motors with GOI financial assistance was inaugurated on December 31, 2010.
An India-Myanmar Industrial Training Centre has been set up by HMT(I) in Myanmar with the assistance of GOI in Pakokku, a second centre is being set up in Myingyan, while the Myanmar-India Centre for English Language (MICELT), a Myanmar-India Entrepreneurship Development Centre (MIEDC) and an India-Myanmar Centre for Enhancement of IT Skills (IMCEITS) are all operational. Other projects include revamp of the Ananda Temple in Bagan, upgradation of the Yangon Children's Hospital and Sittwe General Hospital, erection of disaster proof rice silos etc. India has also assisted in the reconstruction of 1 high school and 6 primary schools in Tarlay township, the area worst affected by the severe earthquake that struck north-eastern Myanmar in March 2011.
In India, we often say Myanmar is our "gateway" to the East. Against the rhetoric, the existing connectivity between the two neighbours remains much to be desired. With long land and maritime boundaries, surely, the neighbours are yet to take full advantage of geography. Historically, India has been a major player in Myanmar's socio-economic landscape till the 1960s. The advent of military dictatorship and its economic policies reduced India's interactions with Myanmar. As the political transition in Myanmar picks up momentum, it provides an excellent opportunity for India to explore new avenues of cooperation.