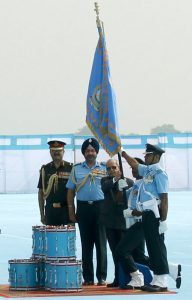 Tambaram. 03 March 2017.
President's Standard and Colours were awrded to 125 Helicopter Squadron and Mechanical Training Institute (MTI) respectively,  at Air Force Station Tambaram today. The Commanding Officer of 125 Helicopter Squadron Group Captain VD Badoni and Commanding Officer of MTI Group Captain A Arunachaleswaran received the President's Standard and Colours respectively.
The ceremonial parade was commanded by Group Captain A Arunachaleswaran. The President also released First Day Covers of 125 Helicopter Squadron and Mechanical Training Institute at the function. There was a spectacular display of precision and daredevilry by the Air Warriors drill team.
Fly past consisting of Mi-35 and Mi-17 Helicopters, Pilatus and Kiran trainer aircraft was synchronized with significant events of the parade. The grand ceremony concluded with a breathtaking air show demonstrated by Surya Kiran Aerobatic Team (SKAT), which won the admiration of one and all.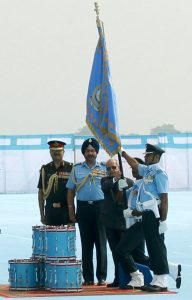 Speaking on the occasion, Pranab Mukherjee  President of India congratulated the awardee units and said that the nation is proud of the capability and competency of the IAF. Over the last eight decades, the IAF has emerged as an immensely professional and combat-ready force. It has achieved distinction in defending our skies and delivering vital humanitarian aid and disaster relief. The brave men and women in blue have displayed incredible courage and determination in the discharge of their duties, acquitting themselves with great confidence.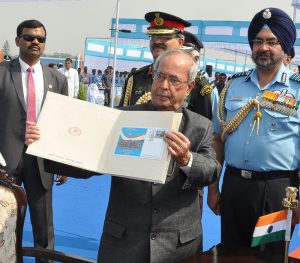 The ongoing process of modernization will transform the IAF into an even more potent and strategic force that can take on all future challenges. The IAF will remain ever vigilant in protecting our skies and continue to maintain its cherished standards of excellence.