Kuala Lumpur. 30 March 2022. The gleaming hardware, from MANPADS, SHORADs, to utility and armoured vehicles, air and sea platforms, electronic warfare, sensors, shooters and ballistics protection systems on display at the Defence Services Asia and NATSEC Asia 2022 attest to the high-dollar value of the global defence and security industry.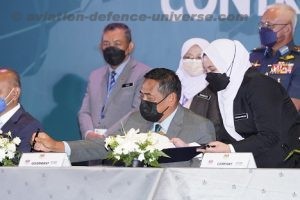 Today, a series of contracts and MoUs were inked at DSA and NATSEC Asia, primarily between the Ministry of Defence and the Ministry of Home Affairs, and several defence and security firms.
The total value of these contracts and MoU added up to a staggering RM7.1 billion.
Several other signing ceremonies were also held prior to this, including the deal between Turkish Aerospace Industries (TAI) and NS Corporation to collaborate in joint business opportunities in the aerospace, space, and ecosystem development in Malaysia as part of the Vision Valley 2.0 initiative.
These deals attest to DSA and NATSEC Asia's stature as the biggest and most effective marketplace for defence and security-related hardware and solutions to meet the most stringent of requirements.
It also speaks volumes as to the trust and confidence these market leaders have in DSA as a global marketplace and a gateway to the world.
The highlight for Day 4, March 31, will be a 'Thank You' Reception with Guests of Honour being the Senior Minister of Defence, YB Dato' Seri Hishammuddin bin Tun Hussein, and Minister of Home Affairs, YB Dato' Seri Hamzah Bin Zainudin.
At the same function, an official announcement will be made regarding the coming DSA & NATSEC Asia 2024.