Strengthens maritime and strategic ties with Maldives & Srilanka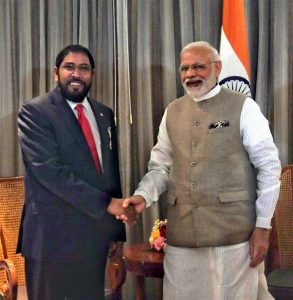 New Delhi. 11 June 2019. India ascribes great importance to 'Neighbourhood First Policy' is clear as the Prime Minister first visited to Maldives and Sri Lanka while the External Affairs Minster paid first visit to Bhutan. Here it will not be out of point to mention that Modi in his first tenure paid first foreign visit to Bhutan.
Leaders of Bay of Bengal Initiative for Multi-Sectoral Technical and Economic Cooperation (BIMSTEC) countries attended the swearing-in ceremony of Prime Minister Modi. The BIMSTEC countries include Bangladesh, Bhutan, Myanmar, Nepal, Sri Lanka, Thailand and India. Besides BIMSTEC the leaders of Mauritius and Kyrgyzstan also attended the oath taking ceremony. India also invited Managing Director and Chairman of International Monetary Fund (IMF) Christine Lagarde to attend the swearing-in ceremony.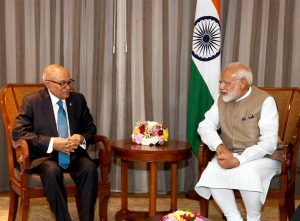 Prime Minister Modi had stated that his visits to Republic of Maldives and Democratic Socialist Republic of Sri Lanka on 8 & 9 June will be the first overseas visits after the re-election. He also made it clear that his visits will strengthen the "close and cordial ties with our maritime neighbours" and it is in conformity with "Neighbourhood-First Policy'. Vijay Gokhale Foreign Secretary also stressed while briefing the media prior to Modi's official tour that the visits accentuate India's 'Neighbourhood First Policy'. The press release issued by Ministry of External Affairs also confirms the significance of India's 'Neighbourhood First Policy'.
India consciously avoided inviting Pakistani prime minister in the oath taking ceremony. At present Pakistan is in great economic trouble and already took loan from China, Saudi Arabia and UAE but these loans were not sufficient. IMF also promised to extend $6 billion dollars in three years but with few stringent stipulations. Pakistan wants to start peaceful negotiations with India, but Delhi made it clear that talks and terrorism cannot go together hence first Pakistan must stop assisting terrorist outfits and then there can be meaningful negotiations.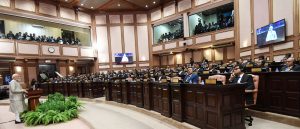 Modi visited all the South Asian countries in his first term except Maldives because the then president Abdullah Yameen had an onslaught on political parties, and he was rendering excessive favours to China and was blatantly working against the interests of India. Nonetheless Modi attended the swearing-in-ceremony of President Ibrahim Mohammed Solih in November 2018.
Besides meeting President Ibrahim Mohamed Solih, Modi also addressed the Parliament of the Maldives. Both Modi and Solih inaugurated two defence related projects including a coastal surveillance radar system and composite training centre for Maldives National Defence Forces (MNDF). Both the countries also signed six agreements related to defence and health. India and Maldives also signed the agreements pertaining to establishment of passenger and cargo ferries.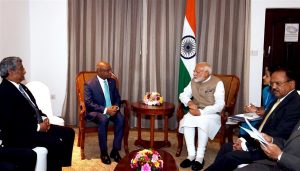 Maldives also conferred the highest honour 'Rule of Nishan Izzuddeen' to Modi. It is the highest honour accorded to foreign dignitaries. It is the ninth international honour awarded to Prime Minister Modi. Before it Modi also received Order of St Andrew the Apostle, the highest order of the Russian Federation on 12 April 2019, United Arab Emirates honoured him by giving Zayed Medal on 4th April 2019. He was also conferred with Philip Kotler Presidential Award, Seoul Peace Prize 2018, UN Champions of the Earth Award 2018, 'Grand Collar of the State of Palestine, Amir Abdulla Khan Award of Afghanistan and King Abdullaziz Sash Award of Saudi Arabia. All these honours are clear indication that Modi has taken the country much ahead in the international arena. These awards enhance the country's honour.
S. Jaishankar the External Affairs Minister who retired as Foreign Secretary of the country rightly stated that India is the largest country in South Asia hence it must extend assistance to other South Asian countries without expecting complete reciprocity with them. However, no country afford to bestow assistance without any gain and India cannot be an exception.
Modi's visit to Maldives gave a threefold message that both the countries will continue with high level visits, will assist each other in developmental projects and the people to people contact will be reinforced.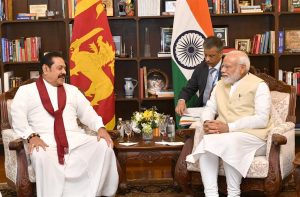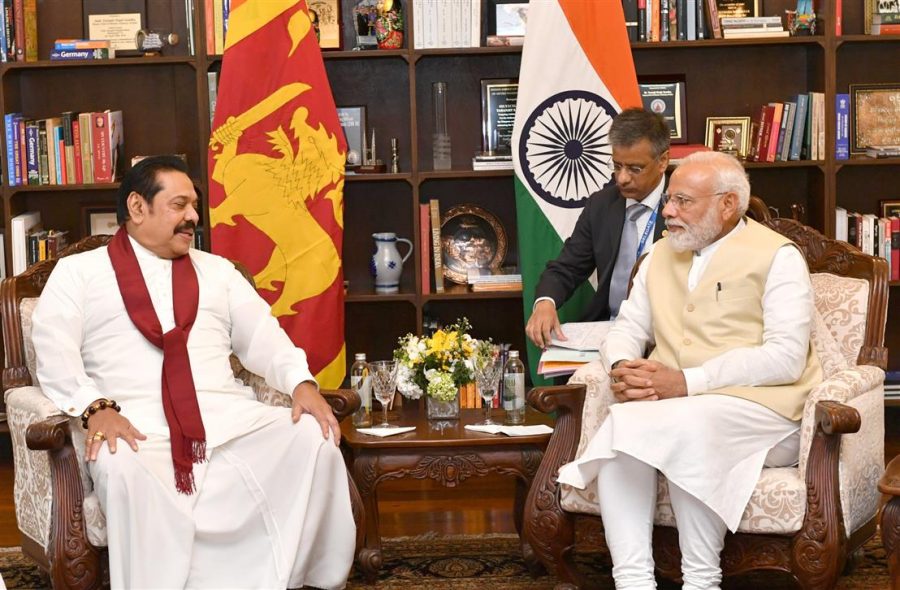 Though Modi visited Sri Lanka on 9th June for few hours but gave a compelling message of solidarity. The visit was after the Easter Sunday bombings of 21st April 2019 in which the suicide bombers attacked three churches and three luxury hotels. In these terrorist attacks more than 258 persons including 45 foreigners were killed and approximately 500 persons were injured. Although Islamic State (IS) took the responsibility of these atrocious attacks but Sri Lankan authorities claimed that National Thowheeth Jamaath and Jammiyathul Millathu Ibrahim, two Islamic terrorist outfits carried out these suicide bombings. Sri Lankan security forces also mentioned that these attacks were in retaliation of the attacks on two mosques in New Zealand in which approximately 50 Muslims were killed. After the suicide attacks communal violence spread between Muslims and Christians while the tension between Muslims and Buddhists also gripped the island nation.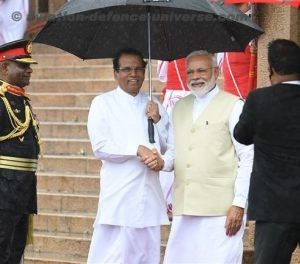 Prime Minister Modi was the first international leader to visit Sri Lanka after these dastardly attacks. Both sides agreed that terrorism is a "joint threat" hence it must be faced together. India made commitment to be with Sri Lanka "for a shared, secure and prosperous future". Modi also visited St. Anthony's church where the terrorists attacked on Easter Sunday.
The visit is important as China is increasing its investment in Sri Lanka and already occupied the Hambantota Port also known as the Magampura Mahinda Rajapaksa Port on 99 years lease. Besides meeting President and Prime Minister Modi also met with leader of opposition Mahinda Rajapaksa.
The present scenario is in favour of India. The former Maldivian President Yameen was totally pro-China and anti-India. Yameen disregarded the protest made by India before signing a free trade agreement with China. He also gave land to Beijing for development.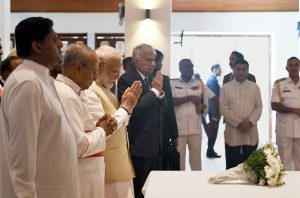 Same way the previous Sri Lankan President Mahinda Rajapaksa also gave several infrastructure projects to Chinese companies and took heavy loan from Chinese corporations. India became extremely concerned on the increasing Chinese naval presence in Sri Lanka and Maldives. Now pro-China leaders of both the countries were defeated in the elections. The present regimes understand that China is an expansionist country while India is not only a democratic nation but a dependable ally hence India's relations with all the neighbouring countries are strengthening. China is also facing some trouble because of US-China trade war.
The 'Neighbourhood First Policy' is also important for "SAGAR Doctrine" which means "Security and Growth for All in the Region" propounded by Modi in 2015 with the object to keep the Indian Ocean Region (IOR) 'peaceful and secure'. However, the analysts claim that SAGAR doctrine is to restrain the Chinese naval presence in the IOR. India has to be careful about the growing clout and power of China in South Asia region. Although China itself is very powerful but it has full support of nuclear armed Pakistan. Therefore, India cannot sit idle and watch the increasing strength of China and its forceful presence in Sri Lanka, Maldives and Bangladesh. India is getting support from United States and Japan as these countries are also realising the enhancing hegemonic threat of China. At present countering China in IOR is significant part of Indian foreign policy, although there is no threat at this juncture, but India has to remain cautious as China is an expansionist country. However, it will be a stupendous task for India to counter China with its limited resources as the dragon has deep pockets and already invested lot of money in the countries of this region. Not only this US and Japan which at present are standing with India have dynamic relations with China hence India should be careful as it is not certain when they will retrace back.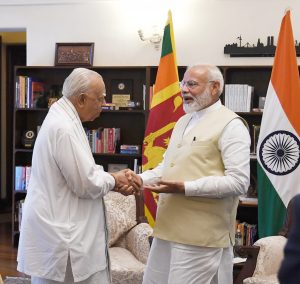 India should also try to have cordial relations with China although dragon considers India as its potential adversary but will certainly not like to have another war. Foreign Minister has rightly mentioned that India's cooperation with other countries is neither against any other country nor it is with an ulterior motive. Modi's meeting with Chinese president Xi Jinping in China's Wuhan city on April 27 & 28 to improve bilateral relations was very significant. Both Indian Prime Minister and Chinese President would meet again on the side lines of Shanghai Cooperation Organisation (SCO) summit scheduled to be held at Bishkek, Kyrgyzstan on 13th and 14th June. India should be friendly with all countries especially with China as it is necessary for the all-round progress of the region.
(Jai Kumar Verma is a Delhi-based strategic analyst and member of United Services Institute of India and Institute for Defence Studies and Analyses. The views in the article are solely the author's. He can be contacted at editor.adu@gmail.com)