New Delhi. 01 Apr, 2016. Mighty Jets, one of the oldest Transport Squadron of Indian Air Force with its motto of "Ishtam Yatnen Sadyet" that translates into "Achieve Goals through Perseverance", celebrates its 55th Anniversary on 31 Mar 2016. It was raised in Chandigarh with AN-12 aircraft in 31 Mar 1961 under command of then Wing Commander TN Ghadiok in support of Indian Armed Forces in J&K region. It actively took part in 1962, 1965 and 1971 wars. During 1971 war, the unit was bestowed 'Battle Honours' for Offensive Operations for its successful bombing missions against the enemy, a rare honour for a transport Squadron. The Squadron was awarded the president's Standard in March 2011.
In April 1985 re-equipped with IL-76 'Gajraj' aircraft and rechristened 'Mighty Jets', it relocated to Agra (April 1985) and to Nagpur (March 2003), before finally relocating back to Chandigarh in August 2011. All these years it continued to fly in support of J&K forces as well the civilian population- being a harbinger of peace and bringing progress to the state. The only IL-76 Squadron in the IAF, it has logged more than one lakh flight hours on the four engined IL-76 aircraft.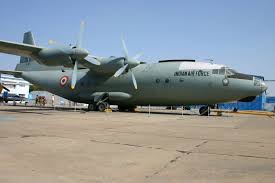 Being equipped with heavy lift aircraft, the squadron has a long list of firsts to its credit. A T-72 tank can be directly driven into the IL-76 for an airlift, or three 6.5 ton trucks, and a host of heavy and outsized vehicles and equipment can be carried over long distances. The notable firsts and credits include: The only Indian unit to circumnavigate the world. Fly over North Pole, Land in car Nicobar on a damaged runway after 2004 Tsunami. The first woman multi engine jet pilot of the IAF (then Sqn Ldr Veena Saharan).
Mighty Jets have been the Messiah of relief during various natural calamities within the country (Bihar-Purina, Gujarat, Punjab, Haryana, J&K-Srinagar & Leh, Assam, Tamil Nadu, Andaman & Nicobar, UP etc.) and abroad (relief to USA- Katrina Hurricane, Iran, Pakistan, Philippines, Sri Lanka, Indonesia, Yemen, Nepal, Male, Armenia, Kyrgyzstan, Afghanistan, Oman etc). Its operations have so far spanned Asia, Europe, North America and Africa.
Being a legacy fleet, IL-76 maintenance poses enormous challenges, however through professionalism and dedication of its personnel, the squadron has risen to the occasion meeting all its assigned tasks. It has earned One MVC, Four VRC's, One YSM, Two BAR to VM's, Thirty nine VM's, Three VSM's and Five M in D's.
Presently, the unit is commanded by Group Captain Sunil Katoch commemorate 55 years of its glorious service to the nation. The celebrations are being attended by many serving and retired officers of the Squadron. The Commodore Commandant of the unit Air Marshal SRK Nair AVSM VM, AOC-in-C, Training Command will preside over these events.