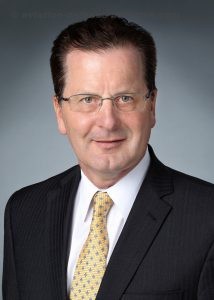 New Delhi. 03 December 2019. There has been a change of guard in US Aviation Major Lockheed Martin's Team India. The company has appointed William (Bill) Blair as Vice President and Chief Executive for Lockheed Martin in India.
In this role, Blair will lead the growth and development of Lockheed Martin's business in India and serve as the executive representative for all of Lockheed Martin's programs, products and services in the country. He will report to Timothy Cahill, Senior Vice President for Lockheed Martin International.
Immediately prior to assuming this post, Blair was Vice President, Strategic Solutions and Middle East Executive with Lockheed Martin's Space Systems where he led and developed strategic solutions and expanded business opportunities in countries within the Gulf Cooperation Council, and Israel. In a career spanning 30 years, he has held roles of increasing responsibility, with global assignments including in India where was based on several prior occasions.
Blair's appointment signals a deliberate evolution and enhancement of Lockheed Martin's business in India, underscoring the importance of the Indian market to the Corporation. Blair assumes the role from outgoing Chief Executive and Director for India, Philip (Phil) Shaw.
"I am deeply excited to lead the business during this defining period of evolution in India's defence capabilities. As the leader in state-of-the-art defence capabilities for use in air, sea and space domains, Lockheed Martin seeks to develop advanced solutions aimed at enhancing Indian national defence and security. We will continue to partner with our customers, partners, national agencies, local industry and research organizations in line with the national missions of Make in India, Skill India, Startup India and Swachh Bharat to contribute to the development of industrial capability and the aerospace ecosystem," said Blair, adding, "I am grateful for and look forward to building on the great work achieved by Phil (Shaw) and the team over the last seven years."
Shaw commented, "I am privileged to have played a part in the growth of the company in India and contribute to the evolution of indigenous defence manufacturing here. As I plan my transition, I am proud of the strong team we have built in India and the work we have done together. I am excited for Bill (Blair) and am glad to be passing the reins on to him; his international experience and the years he has spent working in India, his proven track record in our business and strategic vision will be instrumental not only to Lockheed Martin, but for the entire Indian aerospace and defence industry."