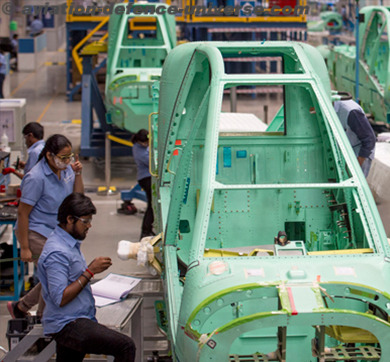 By Team ADU
New Delhi. 21 January 2023 . It has been a journey indeed since Boeing  and Tata Advanced Systems laid the foundattion stone of a new facility in Hyderabad for its joint venture named Tata Boeing Aerospace (TBAL) on 16th June 2016. This facility had been established to co-produce Boeing AH-64 Apache helicopter fuselages and other aerostructures, as well as to pursue integrated systems in aerospace.The  production facility was envisaged to be the sole producer of AH-64 fuselages globally. 
Late Manohar Parrikar, the then Defence Minister, Government of India; KT Rama Rao, Minister of IT and Industries and Commerce; and other dignitaries from the Telangana government  together conceived a state-of-the-art facility with two global brands Tata and Boeing. The rest is history in a state which was still in its infancy but a city which had a long standing association with defence production. 
When Tata Boeing Aerospace Limited (TBAL) delivered the first fuselage for six AH-64 Apache attack helicopters ordered by the Indian Army from its facility in Hyderabad, it brought back nostalgia of the pre atmanirbhar bharat days when make in India was the mantra.
Fast forward to 1st March 2018 and the legendary Ratan Tata with Nirmala Sitharaman the then Defence Minister inaugurated this state-of-the-art facility in Hyderabad spread over 14,000-square meters and employing 350 highly skilled workers. The facility was envisaged  to being a global sole source supplier for Apache fuselages, produces complex aero-structures for Boeing 737 and 777 models.
A few months post on 1st of June 2018 Tata Boeing Aerospace Limited  announced the delivery of the first AH-64 Apache combat helicopter fuselage ahead of schedule from its facility in Hyderabad and the fuselage was transported to Boeing's AH-64 Apache manufacturing facility in Mesa, Arizona, for integration into the final assembly line. 
And today when the first fuselage for Indian Army's Apache is handed over , TBAL has produced and supplied Boeing's Apache final assembly plant in Mesa, Arizona with over 190 fuselages. More than 90 percent of the parts used in these aerostructures assemblies are manufactured within India through over 100 Micro, Small and Medium Enterprises (MSME) suppliers in support of the government's vision for Make in India.The joint venture between Boeing and Tata Advanced systems Limited (TASL) today employs over 900 engineers and technicians and utilizes cutting-edge robotics, automation and advanced aerospace concepts in its manufacturing processes.
Now lets see what is a fuselage the nation is talking about. Fuselage, a word derived from the French "fuseler" that means, "to streamline", is the central part of an aircraft or a helicopter. The wings and tail assembly is connected to the fuselage. It is an aircraft's main body section that houses the cabin which holds the crew, passengers, and cargoand  also houses the engine, the transmission, avionics, flight controls, and the powerplant.
The fuselage, being the central body of a helicopter has to withstand the forces created in flight  and hence should be strong and streamlined . It bears the brunt of five stress factors act during flight which are  tension, compression, bending, shear and torsion. The source of these stresses is the air-resistance force. The resistance that a helicopter experiences, especially in forward flight, is known as drag and depends strongly on the shape of the fuselage. The better streamlined a fuselage is, the less drag it experiences. Apache in its design has an extremely streamlined fuselage. It shapes the aircraft and provides the necessary aerodynamics for the type of flight to be performed. It serves as an assembly base for the different parts of the aircraft.
Modern helicopter fuselages are built in forged, extruded sheet aluminum alloys held together using steel, titanium, and aluminum fasteners . Frames and stringers make up the basic skeleton of the fuselage. Pressure bulkheads close the pressure cabin at both ends of the fuselage, and thus carry the loads imposed by pressurization. They may take the form of flat discs or curved bowls. The fuselage lengthof Apache is  49 ft 5 in (15.06 m). As with fixed-wing aircraft, helicopter fuselages and tail booms are often truss-type or semimonocoque structures of stress-skin design. Steel and aluminum tubing, formed aluminum, and aluminum skin are commonly used. Modern helicopter fuselage design includes an increasing utilization of advanced composites as well. Firewalls and engine decks are usually stainless steel. Helicopter fuselages vary widely from those with a truss frame, two seats, no doors, and a monocoque shell flight compartment to those with fully enclosed airplane-style cabins as found on larger twin-engine helicopters. The multidirectional nature of helicopter flight makes wide-range visibility from the cockpit essential. Large, formed polycarbonate, glass, or plexiglass windscreens are common.
The story of Apache AH-64E will continue in India and so will the tie up between Tata and Boeing which has a futuristic plan to use the facility in times to come. But at the end of the day it is a relationship between two important countries which is marching ahead with elan'.