Goal to produce simulators for commercial aviation market in China
Will help speed deployment of full flight simulators to Chinese airlines

Addresses growing need for pilot training in the Asia-Pacific region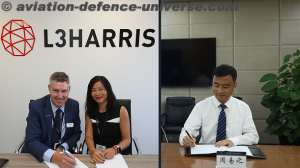 FARNBOROUGH, U.K., July 18, 2022 — L3Harris Technologies Commercial Aviation Solutions (NYSE:LHX) has signed a Memorandum of Understanding (MOU) with Zhuhai Xiangyi Aviation Technology to discuss producing full flight simulators (FFS) for the commercial aviation market in the People's Republic of China.
The global partnership and regional production capabilities could help speed deployment of full flight simulators and position the companies as pivotal suppliers to Chinese airlines.
"These exclusive discussions will explore how we can leverage each other's brand strengths, production expertise and geographical footprint to meet ever-increasing airline demands in the Asia-Pacific region," said Alan Crawford, President, L3Harris Commercial Aviation Solutions. "Together, we expect the Asia market to grow exponentially. This partnership will help meet their pilot training needs."
L3Harris Commercial Aviation Solutions is a world leader in providing selectable and sophisticated commercial aviation training solutions for pilots and trainers across various commercial platforms. The business offers a full-spectrum of in-person, self-paced and virtual training solutions, including cadet pilot training, airline training type certification, multi-pilot licenses, and high-fidelity simulation products.
Zhuhai Xiangyi Aviation Technology is a wholly-owned subsidiary of China Southern Airlines. The business is a leading flight training provider and simulation technology developer in China.