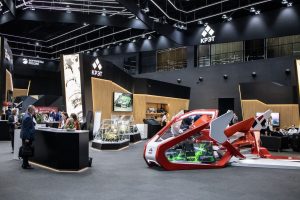 Moscow. 17 August 2021. Concern Radio-Electronic Technologies (KRET) (part of the Rostec State Corporation) will present its newest civilian and military products at the International Forum "ARMY-2021". This year will see the debut of new systems for navigation, flight operation, on-board computing, as well as a weather station to be used in the Arctic, and 20 models of Tiocraft air cleaners, five of which will be presented for the first time. The Concern's exposition will include a total of 140 items.
One of this year's novelties is the SNV 1a helicopter navigation system. Thanks to its operating precision combined with small dimensions and weight, the product developed by Ramenskiy Instrument-Making Plant (part of KRET JSC) is particularly suitable for use in lightweight helicopters. In includes an attitude and heading reference system, a navigational instrument, which serves to measure yaw, roll, and pitch of the aircraft, and makes it possible to precisely determine the aircraft's position even if there are no landmarks.
"In addition to high accuracy, the important parameters of avionics are weight and dimensions. Making navigational instruments of smaller size and weight, while preserving their quality and reliability is one of the challenges the developers face when creating competitive aviation equipment. In this respect, we can confidently say that the new development by the Ramenskiy Instrument-Making Plant will be in demand; it has smaller dimensions than its peers, consumes less energy, and, at the same time, features higher reliability and competitive price", noted Nikolay Kolesov, CEO of KRET JSC, Supervisor of the Novgorod and Mariy-El departments of Soyuzmash (the Union of Russian Machine Builders).
Among other promising developments to be presented by the Concern, it is also worth to mention devices enabling instrument-based helicopter control. Developed by the Ulyanovsk Instrument Manufacturing Design Bureau, the navigational data collecting block BFNI-1 and the multi-functional indicator IM-23 ensure situation crew awareness, assist in navigation and control of the aircraft, guarantee "smart" support and warn about external threats.
The BFNI-1 provides pilots with comprehensive information about weather conditions and terrain relief, and detects artificial land-based objects. All the data is accumulated and displayed as layers on a map with navigational information overlaid. In its turn, the multi-functional indicator IM-23 provides navigational support of the flight; receives, processes and displays the aircraft's position parameters, as well as its altitude and speed informs the pilot on the status of the aircraft utilities, displays video information submitted by on-board viewing systems, and guarantees the performance of computing tasks, including the prevention of critical flying modes and the activation of air weapons.
"Traditionally, our concern sees the Forum "ARMY" as a very important venue, where we not only present our newest developments but also collect feedback from potential customers and identify prospects for cooperation. As part of the business program, the Concern representatives take part in the discussions of key industry development issues and resolving strategically important problems", Nikolay Kolesov explained.
Concern Radio-Electronic Technologies (KRET) is the largest Russian holding in radio electronics industry.
It was established in 2009 and is a part of Rostec State Corporation. Key business areas include the development and manufacturing of systems and complexes of on-board radio electronics for civilian and military aviation, air-based radars, "identification friend or foe" means, COMJAM systems, measurement equipment for various purposes.
In addition to that, the Concern's enterprises manufacture modern household appliances and medical equipment, machinery and control systems for the fuel and energy complex, transport and mechanical engineering.
The Concern includes more than 65 research institutes, design bureaus and mass production plants located in 29 constituent entities of the Russian Federation. It employs about 43,000 people.