Company announces sale of 250,000th borescope plug, as 500,000th LULYLOK™ self-locking device anticipated by year end
Paris. 17 September 2020 . JPB Système has announced two key product milestones as it marks its 25th anniversary year. Having recently surpassed the sale of its quarter-of-a millionth borescope self-locking plug, the company is well on track to hit another landmark with production of its half-a-millionth LULYLOK™ B-nut self-locking device.
Uniquely, the borescope plug successfully addresses a specific problem put to the company by aerospace giant, Safran, in the 1990's to completely eliminate the need for lockwires when securing an engine's connections prior to visual inspection. Developed continually since its creation, and now in widespread use with Safran, and other aircraft engine manufactures like Rolls Royce and Pratt & Whitney, JPB's borescope self-locking plugs provide a safe and secure seal for the various borescope inspection ports situated around the turbine engine case.
Time saving from one hour to just ten seconds, not only that, such customers are afforded a significantly more efficient system that reduces maintenance time from one hour to just 10 seconds. Such has been the success of JPB's borescope plugs, that JPB Système now holds a large part of the market, with the product certified on a range of aircraft engines – including the GE90-115 engine for the Boeing 737MAX and the G7200 engine for Airbus A320 NEO.
Similarly, JPB Système's LULYLOK™ solution is equally popular among aircraft engine manufacturers. As an advanced B-nut for fittings, it features a unique self-locking device that ensures sealing of pipes, thereby preventing loosening and leakage caused by severe vibration and extreme thermal conditions. Like the borescope plug, LULYLOK™ addresses safety concerns by eradicating the need for a lockwire or safety cable to secure the threaded parts within the engine. This eliminates foreign object damage while reducing maintenance costs and installation time. Thanks to these unique attributes and benefits, JPB continues to expand the use of LULYLOK™ beyond aerospace and into the automotive, railway and nautical industries.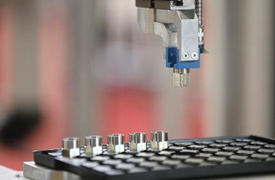 "The way in which the world's foremost aircraft engine manufacturers quickly and wholeheartedly embraced these products, is testament to their ability to improve safety and remove labour intensive processes in support of more efficient MRO processes," says Damien Marc, CEO, JPB Système. "We're extremely proud to achieve such an impressive double milestone, especially as we celebrate a quarter of a century serving the world's foremost aircraft engine manufacturers.
Despite a heritage in the creation and delivery of self-locking solutions for aircraft engines, JPB Système recently developed a pioneering middleware solution designed to empower those companies seeking to embrace intelligent manufacturing and the Industry 4.0 revolution. The innovative manufacturing execution system, known as KEYPROD, enables manufacturers to connect, track and measure the effectiveness of all elements of the production process – including machinery and associated applications. Early adopter trials of KEYPROD are currently underway with several companies, with commercial availability of the solution expected in 2021.