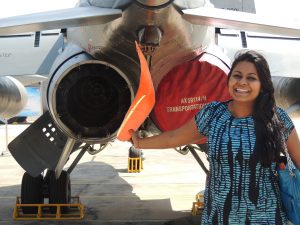 By Sangeeta Saxena
New Delhi. Real leaders don't follow, they lead. It is hard , it is  a lot of work but you get to do what you want and you get to do it your way. One has to start somewhere. Ideas and opportunities don't just come out of thin air. Ideas are thought, planned, strategised and put into action. Opportunities are grabbed. And Jet Set Go is an example of  creating a path which no one has tread earlier.
Jet Set Go zooms ahead making private jets a necessity not a luxury for people who feel time is money. And driving India's first online market place for private jets and helicopters is Kanika Tekriwal. I was definitely not prepared to meet a girl in her twenties full of passion for aviation, with a slogan 'Private Aviation like never before' , a dream to be the face of luxury travel and  with an ability to  turn every no into a yes.
An interactive technology driven platform enabling users to search and charter aircraft and helicopters across India ,  JetSetGo has got on board almost 80% of India's private jet fleet, Kanika ,  CEO, JetSetGo Aviation Services Private Limited informs. The flight search lets users enter minimum flight details i.e. location, date of departure, arrival and number of passengers. The application then carries out a live search for suitable aircraft basis user criteria and a list of aircraft is displayed. The user can then make a selection of different aircraft and request for quotations.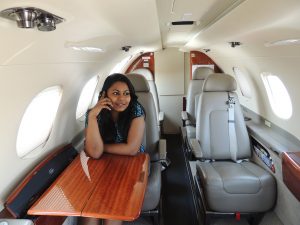 Jet Set Go has had a smooth landing in turbulent times and now promises to take off to heights none else would have soared in the world of private jets. Kanika's is a story which would be just right for a Bollywood script. Lets hear it form her.
"I was always fascinated by the aviation sector and am a small town girl who would keep looking at an aircraft in the sky till it flew into oblivion.  I started working in the sector at 17. But it was only after my MBA that I thought of  setting up JetSetGo. While I was working had always heard that hiring a private jet in India is like hiring a spaceship. The sector was just waiting to get an option that enabled hassle-free and informed hiring of private aircraft for leisure, work or medical reasons, and the idea of booking online just cropped up. I returned to India from UK and from Bhopal moved to Delhi, with everyone sceptic about this move, had a medical setback and had to drop the plans for a year. And after a year and on recovering realised no one had picked up my idea and it was just waiting for me to put it into action," told Kanika.
Not a word about what the medical contingency was, the strong girl not wanting to tell me and gain sympathy, never realised I had done my homework and knew of the fight she had with cancer at 22.
In just four years Jet set Go  has a monthly earning of 2million USD,  has more than   featured in the Forbes magazine list of '30under30' achievers of Asia for making a mark in changing the face of e-commerce and shopping. In a traditionally male bastion Kanika is calling the shots  and has almost 80 per cent of India's private jet fleet on board , makes it easy for users to search and charter aircrafts and helicopters across India, even in areas not served by commercial airlines.
" JetSetGo is doing on an average  one flight a day with average cost ranging between Rs 3 lakh and Rs 15 lakh. It generates 50 per cent of revenue from corporate bookings, followed by leisure (20 per cent); the remaining is split between medical emergency and tours. We service almost 10 queries a day, have been witnessing a growth of almost 100 per cent, without giving discounts or creating artificial scarcity, " she said.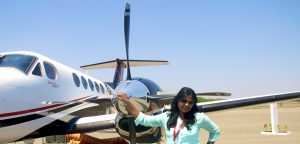 JetSetGo raised an undisclosed amount of funding from Yuvraj Singh's startup fund YouWeCan Ventures in July 2015. In December 2015, they raised $1.9 million in pre- Series A funding. The aviation start up has also raised an undisclosed amount from Puneet Dalmia, managing director of Dalmia Bharat Ltd, who invested in his personal capacity.
With offices in Delhi , Mumbai,  Bengaluru , Dubai  and  New York  Jet Set Go  has already got a global reach. It aims to be in 16 countries and have 150 employees in the near future.
Jet set Go is a story  of motivation and arriving with élan. What started with just 5,000 Rupees is now a case study for management colleges.  "Brilliant businesses were not built on money, but on great people and great ideas. Mine also has a whole lot of goodwill. If my business is not my first love, then the chances of it succeeding are slim," ended Kanika on a positive note.